We are living in the age of analytics. Modern businesses want to analyze all aspects of an organization, from sales and marketing to finance to customer service to human resources, and the list goes on and on. With this sea of data, organizations are increasingly deploying business intelligence (BI) and analytics tools to gain valuable insights on this information. But how do we translate all the data and technology at our disposal into something that has real, tangible business value?
This was a fundamental question asked in Gartner's annual Data and Analytics Summit in Grapevine, Texas, where the theme of the week was "Lead in the Age of Infinite Possibilities." With over 3,000 attendees from a broad range of businesses and locations, the conference gave us a unique look into the key trends driving business intelligence and analytics forward, and what makes a data-driven business in 2017.
Analytics, Analytics Everywhere
In addition to the basic dashboarding and analytic topics, much of the discussion tried to tackle deeper questions – i.e., what will "business intelligence" mean in 5-10 years' time? Will we still be dragging, dropping, and visualizing data in dashboards, or will the next generation of BI and analytics look completely different?
According to Gartner analyst Rita Sallam's keynote presentation, the future of modern BI platforms will be machine-driven. Older, traditional BI systems were led by IT and focused on semantic layer platforms. These rigid solutions had complex, long implementation times and even longer times to reach business-ready insights.
The market moved to more modern, agile, business-led, visual data discovery based platforms and the return on investment became clearer and faster. But as technology evolves, and data becomes a more crucial part of everyday business processes, visual analytics might not be enough. Hence, the leading BI platforms of tomorrow will have to incorporate smarter data discovery, focused on machine learning – anticipating business questions and providing streamlined, real-time, analytical insights to business users in ways that can drive actions.
Think Bigger
All three days on the Gartner Summit exposition floor were spent talking to CIOs, business executives, and analysts. There was a clear theme that permeated throughout these conversations: the industry is ready for the "next big thing" in analytics. During the week Sisense customers presented at our booth, talking about the innovative ways they used data, analytics, and Sisense to introduce broad and deep transformation in their business.
Each of these sessions was fascinating in its way, but here are some of the highlights: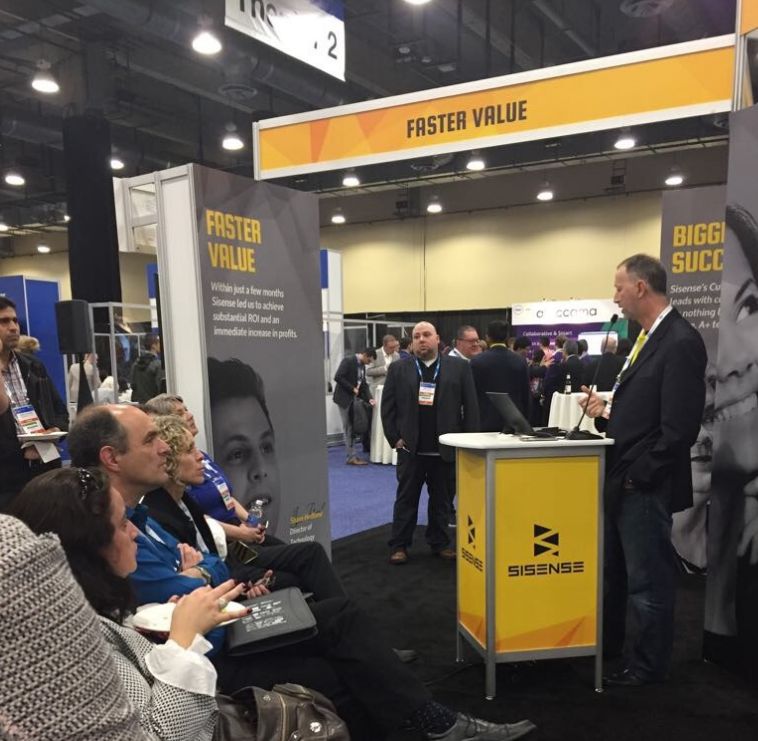 Smarter Innovation – Sisense's Single-Stack™ Architecture and In-Chip technology, allows a solution to be set up in days. Dean Feener from the Salvation Army showed how Sisense's unique architecture is smart and efficient.
Greater Impact – From immediate return on investment to strategic alignment, customers like Richard Perry from CTSI, deployed Sisense in a few weeks with limited IT resources. With Sisense's modern platform, CTSI quickly obtained a 360-degree view of their data.
Faster Value – From the onset, Sisense customers, like Shane Hedlund at Profit Tools, saw faster results from the 90-minute test drive through the implementation. Profit Tools now has one version of the truth.
Broader Access – Sisense Everywhere is revolutionizing the way business users consume data for more widespread access. From Sisense-enabled IoT devices broadcasting KPIs to using artificial intelligence to humanize data consumption, Sisense moves the user beyond the computer screen. James Levine from Act-On discussed how Sisense made their business insights more actionable.
Bigger Success– Companies like Orion love Sisense for the customer support. Malinda Jepsen spoke about the Sisense way – partnering together for success.
It's clear from this event that whatever you're thinking about with business intelligence, think bigger! And so we're off to the next Gartner Data and Analytics Summit in London on March 20-22 and looking forward to learning even more about driving BI and analytics forward.
You can schedule a meeting with our team at Gartner London in this link. Hope to see you there!