As a Lead Analytics Developer working on Luzern's Platform, I spend a good amount of time building and turning KPIs into meaningful visualizations that our clients use to connect and drive marketplace sales on Amazon.
At Luzern, we leverage Sisense to provide white-labeled, embedded analytics to our clients on the data unified in Luzern's platform. Luzern is an eCommerce platform and services offering, targeting brands who want to grow their online business via Amazon, D2C stores, and other marketplaces.
When we first started out, our goal was to use the traditional BI approach to build a range of dashboards and analytic apps that covered a spectrum of use cases to provide data-driven insights. While this is great, it is easy for end-users to get dashboard fatigue —"Is it just another dashboard?"
While providing insights on a unified view of the data that the Luzern Platform brings together is extremely valuable, we also wanted to ensure that our users could interpret data visualizations in the way that we, as dashboard designers, see them. In other words, we wanted our users to easily extract insights. We wanted to rethink the user experience. On top of this, and more importantly, we wanted to provide seamless in-context actions so an end-user didn't need to leave the dashboard in order to take the next step in their workflow.
As we started on the journey to create these actions, Sisense released Sisense BloX, which provided a powerful and flexible code environment to build truly custom, actionable analytic apps. Our first step was in all of this was to make aesthetic updates for better user experience and "wow factor". Following that, we would slowly work on making the dashboard actionable.
How'd we do it? Here are some tips on the approach we took to make take our dashboards to the next level with Sisense BloX:
1. Start with the indicators
A best practice in dashboard design is to start with the high-level metrics at the top of the dashboard. An easy way to update these metrics is to use Sisense BloX to provide more context. For example, instead of just saying "Company XYZ Pending Orders 60," in text, it's easier for an end-user to see an actual logo of the relevant dimension with the metric.
On top of this, changing the background look and feel to call out these indicators (especially providing conditional formatting for highlighting actions) is a great way to bring attention to these widgets.
2. Pick the right visualization or widget to support your narrative
We leveraged both Sisense BloX widgets and traditional analytic visualizations together to help guide the end-user through a narrative. We did not try to force-fit everything into one way. For example, when trying to show a trend or a breakdown of values across dimensions, it makes sense to use a line chart or a bar chart.
3. Find creative ways to get people on-board
Sisense BloX gave us the creative license to build fun internal dashboards to market the power of analytics within our organization. We also put up analytics on TV screens across the office and fulfillment floor to have an immediate feedback loop.
4. Create a better executive mobile experience
Management typically wants to look at high-level KPIs on the go on their mobile device. A nice way to build a long, scrollable dashboard for mobile consumption is to split a Sisense dashboard into two columns and utilize Sisense BloX to build responsive widgets that pack in more information in an aesthetically pleasing way.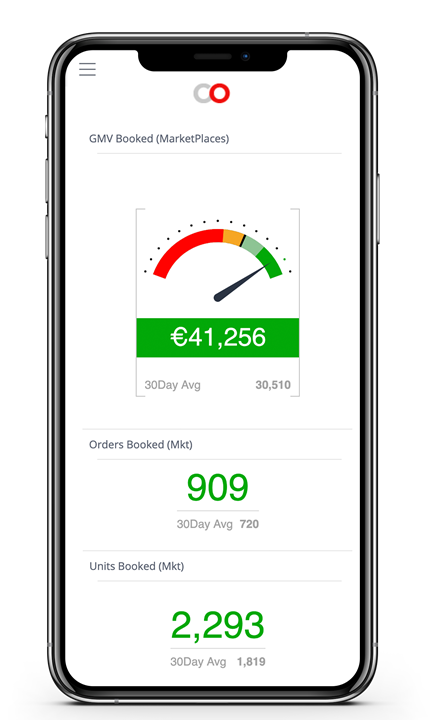 Before Sisense BloX
With Sisense BloX
Read more about how we are driving customer engagement and stickiness with Sisense BloX here.
5. Start with aesthetics as a practice ground
I started working with Sisense BloX on the aesthetic side before moving building input forms and formatted emails with Sisense metrics. Only after that did I start building actions. Starting with aesthetics was a quick way to get buy-in from internal users and customers. It was also a great way to learn the power of the toolset. Sisense BloX has a wide range of templates, which is a great place to start tweaking and rapidly building your first widgets.
(Speaking of templates, if you want to find some of the Luzern/Sisense templates I built you can find them here.)
6. Closing the BI loop with actions
A big step in the analytics experience for our customers was to enable them to take actions based on the insights they gained from within their dashboards. Sisense BloX provides many different ways to take action — whether it is building your own action using the Action SDK or leveraging a POST function or using Zapier. As a quick first step, it was extremely straightforward to leverage the Zapier webhook to push data from Sisense to a medium supported by Zapier into Amazon. Once a flow was agreed upon and tested, we leveraged the Amazon APIs to push data from within Sisense directly to Amazon using Sisense BloX's post function. It helped to iteratively evolve the solution leveraging all the options at our disposal.
Summary
As an engineer first, I have fun with Sisense BloX. But more importantly, because it allows me to build apps, it put me in the mindset of a product designer. It is a great way to get creative with analytics and empower users with new ways of experiencing and interacting with dashboards.
As we are flooded with data and it's becoming increasingly more difficult to cut through the noise, I am excited by the future of actionable analytic apps. Telling a story with your data and enabling users to take actions immediately is key to breaking through the clutter and Sisense BloX has been a great tool in helping us take steps in that direction.

About the author:
Conor Doyle is the Lead Analytics Developer for Luzern, an eCommerce Platform provider based in Dublin, Ireland. He has a Masters degree in Digital Innovation from UCD Michael Smurfit Graduate Business School.