We live in a world of data: there's more of it than ever before, in a ceaselessly expanding array of forms and locations. Dealing with Data is your window into the ways Data Teams are tackling the challenges of this new world to help their companies and their customers thrive.
Many modern businesses choose cloud warehouse services like Google BigQuery or Amazon Redshift to consolidate their data storage and analysis. These services offer the ability to store huge data volumes and process them quickly with massive parallel processing.
However, some companies still prefer on-premise databases, not wanting to share their data to more cloud services than necessary. Others already have on-premise legacy databases and don't want to move them to the cloud for analysis. Many popular cloud analysis tools, including Sisense for Cloud Data Teams, support both on-premise database servers and cloud data warehouses.
When companies use cloud applications (for example, Salesforce) they need to get that data from the cloud and into their databases for analysis. While there are many solutions offering easy data replication to cloud warehouses on the market, there are fewer tools that support on-premise databases, like SQL Server, as a replication target. One of these solutions is Skyvia.
In this post, we'll demonstrate how to quickly load data from Salesforce to an on-premise SQL Server with Skyvia and then connect to Sisense for Cloud Data Teams for analysis.

Getting Started with Skyvia
Skyvia is a cloud data integration solution, which can easily replicate data from Salesforce and other cloud applications to SQL Server as well as other database servers and cloud warehouses. Skyvia does not require installing any software locally.
Replicating data from a cloud application to a database or cloud warehouse is easy in Skyvia, requires no coding or deep IT knowledge, and can be configured in just a few minutes. Additionally, after creating a copy of cloud data in a database, Skyvia can update that data automatically by periodically importing new data from Salesforce and applying those changes to the target database.
To replicate your data this way, the first step is to register on Skyvia. Creating an account is free, and the free pricing plan allows you to load up to 5000 records per month between cloud applications and databases.
SQL Server Requirements
To connect to an on-premise SQL Server, the server must be available from the internet. It must be available from Skyvia's IP (40.118.246.204) for loading data and from Sisense for Cloud Data Teams' IPs (107.23.195.228 and 54.236.224.46) for data analysis. You may need to allow these IP addresses in your firewall.
Besides, SQL Server must allow access via the TCP/IP protocol and SQL Server authentication. For more detailed information on how SQL Server should be configured, please see the documentation. For Sisense for Cloud Data Teams, it's enough to have a SELECT privilege in SQL Server and only this privilege is mentioned in the documentation. Skyvia's replication creates the necessary tables automatically and writes the necessary data to them. Thus, additional privileges are needed for creating tables and writing data.
Connections to Data Sources
After you create a Skyvia account, click New, and then, under Data Integration, click Replication. A replication package editor page will open. The first step is to create connections to the corresponding data sources.
To do this, click the "Connection" box under the "Source" or "Target" header and then click "New connection". After this you select the corresponding data source and enter the necessary connection parameters. For this exercise, select "Salesforce" for the source connection, and "SQL Server" for the target connection.
For Salesforce, Skyvia supports both username/password and OAuth connections, so it is not necessary to store Salesforce credentials on Skyvia. Simply enter a connection name, log in to Salesforce and allow Skyvia access to your data.
For this exercise, select "Salesforce" as the source, and "SQL Server" for the target. The next step is to create the corresponding connections (by clicking the corresponding "New" buttons).
For Salesforce, Skyvia supports both username/password and OAuth connections, so it is not necessary to store Salesforce credentials on Skyvia. Simply click "Untitled" and enter a connection name, log in to Salesforce and allow Skyvia access to your data.
Selecting Objects and Running Replication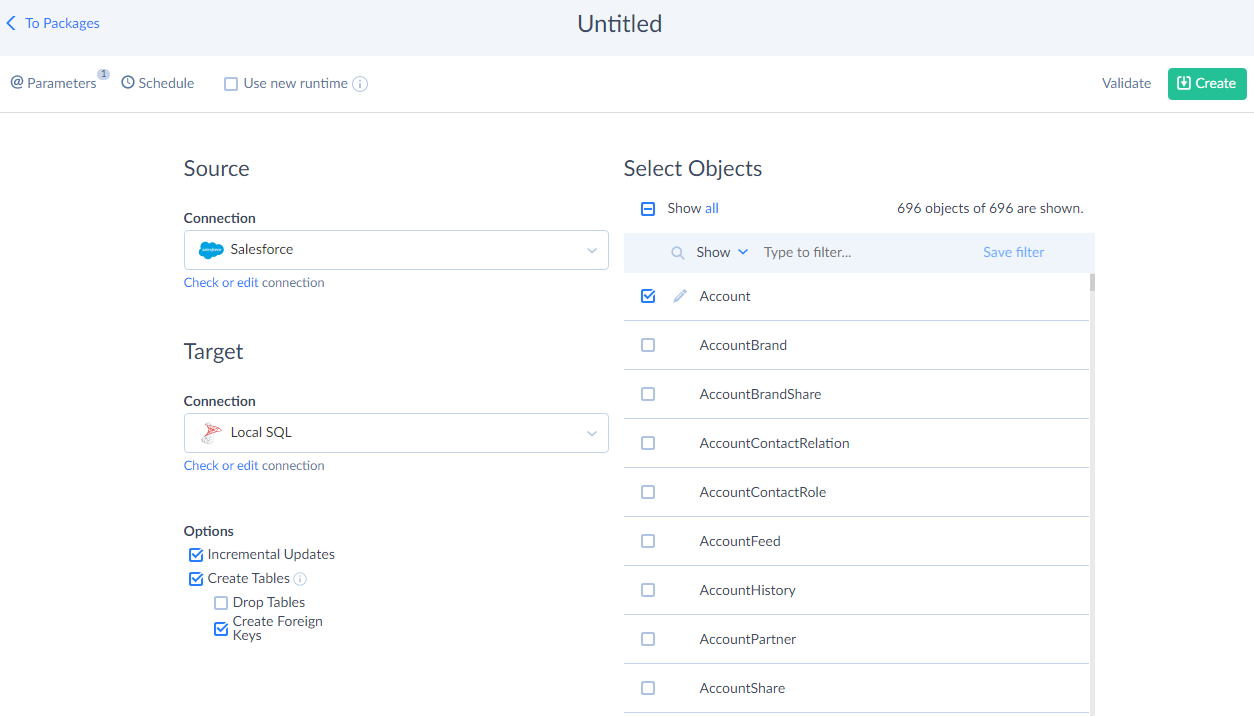 After connecting to Salesforce and your database, everything is simple. Skyvia displays a list of Salesforce objects and you just need to select checkboxes for the objects that you want to copy.
You can also perform complete or partial replication. For each object, you can also use the "edit task" option to exclude some fields or set up filters to copy only certain parts of the data.
That's all you need to do to copy your data. Click "Save" and then run your replication.
By default, Skyvia automatically creates tables with the corresponding structure in your database. In just minutes (depending on the volume of your Salesforce data), you will have exact copies of your Salesforce objects in your database.
Automation
Skyvia allows flexible schedule configuration. You can configure your replication to run monthly, weekly, daily, on specific days, etc. In more robust plans, you can run replication every hour or even every few minutes.
You can also schedule a replication to run automatically, keeping your database always synced with Salesforce. To configure a schedule, open the created replication package for editing and under "Schedule" (at bottom left of the package editor) click "Set schedule."
After you configure your replication, you can easily keep your database up-to-date with Skyvia, continually importing fresh data for data analysis.
Other Integration Scenarios
Skyvia's replication is a perfect solution if you simply want to copy cloud data to a database and keep that data current. But Skyvia is not limited to replication, it supports other operations such as importing, exporting and synchronization.
For example, if you want to load data from other databases or if you want to load data to already existing tables, you will need Skyvia's import function.
Import has a more complex configuration process than replication, but it is much more flexible. It allows importing data from CSV files or from cloud applications and databases directly to other cloud applications and databases. Unlike replication, it doesn't create target tables automatically. Instead you configure mapping between source and target tables and columns.
Powerful mapping settings allow you to load data between the data sources with the different data structure and formats while preserving relations between data. You can provide constant values, use powerful expressions, lookups, etc.
Connecting Sisense for Cloud Data Teams to Database
After the Salesforce data is loaded to SQL Server, you can connect Sisense for Cloud Data Teams to the database to analyze it. To do this, navigate to Settings > Database, then click "Add Database" and select SQL Server as the Database Type. Once you've provided the connection parameters for your SQL Server database, click "Add" and you're ready to go.
After this you will be able to create charts for the newly connected database in Sisense for Cloud Data Teams and get insights on your data.
Sergey Bykov is a technical writer at Skyvia, and a database and cloud solutions expert.
This content is brought to you by Sisense for Cloud Data Teams partner Skyvia. To learn more about our other partners or become one yourself, visit our partner page.