High Level Design
Overview
The
investment portfolio
dashboard is meant to keep investment managers up to date with portfolio performance and allocations. The data will allow managers to change allocations on the fly as well as keep their clients informed on performance.
Dashboard Example (sample data)
Click on the image to open and interact with the dashboard: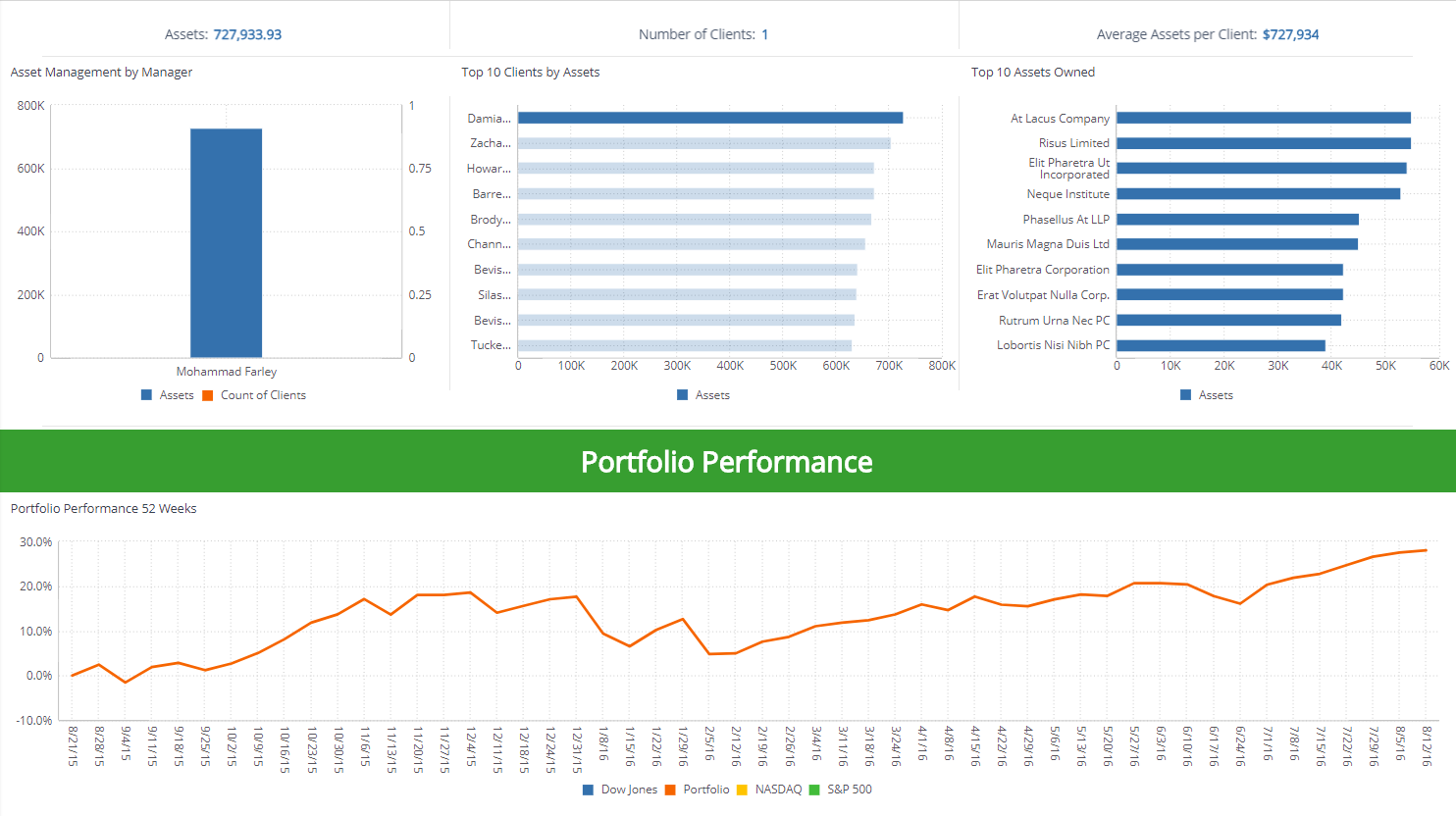 Goals
Report and analyze stock trends to better allocate future investments.
Understand the market and the direction it is heading.
Objectives
Maximize investment opportunity
KPI Architecture
| Objectives | KPIs | Measures | Data Source |
| --- | --- | --- | --- |
| Maximize investment opportunity | Performance measures | Total Assets | Current Price/Portfolio |
| | | Count of Clients | Client |
| | | Assets per Client | Current Price/Portfolio/Client |
| | | Percent Change Performance | Historical Price |
| | | Beta | Historical Price |
| | | Earnings per Share | Historical Price |
| | | Market Capitalization | Historical Price |
| | | Price per Earnings | Historical Price |
| | | 52 Weeks High/Low | Historical Price |
Data Requirements
| # | Source | Table Name | Table Details (type, # rows, key fields) |
| --- | --- | --- | --- |
| 1 | Market price tool | CurrentPrice | Current price regularly updated per security |
| 2 | Market price tool | HistoricalPrice | Historical prices and other information per security |
| 3 | Company source | Client | Information for all clients |
| 4 | Company source | Manager | Information for all managers |
| 5 | Company source | Portfolio | Information on clients' current portfolio |
Data Modeling (Elasticube Design)