High Level Design
Overview
A common problem in outpatient practices is no-shows and late cancellations. This results in:
A decrease in efficiency, as the registrar must now spend time rescheduling patients
A decrease in revenue for the practice, as the provider loses out on billable time
Other patients having to wait longer for available appointments
What if we could use analytics to take a proactive approach and help predict when a patient may not show (or cancel last minute)?
Goals
Increase the number of patients seen by our providers and reduce the amount of patients that do not show or cancel last minute.
Objectives
Identify the breakdown of appointments by a variety of patient characteristics
Predict what patients may be more likely to cancel so we can schedule accordingly
Send an appointment reminder text
KPI Architecture
Objectives

KPIs

Measures

Data Source

1

# no shows / cancellations

(COUNT(ApptID,Result = No-show or Late Cancel))

FACT Appointments

% no-shows / late cancellations

COUNT(ApptID, Result = No-show or Late Cancel) / COUNT(ApptID)

FACT Appointments

% of appointments per patient characteristics

COUNT(ApptID)

FACT Appointments

2

# appts next 5 days

(COUNT(ApptID), Appt. Date = next 5 days)

FACT Appointments

Prob of no-show/late cancel

Calculation based on specific patient characteristics and # of previous cancellations

FACT Appointments
Entities Relationship Diagram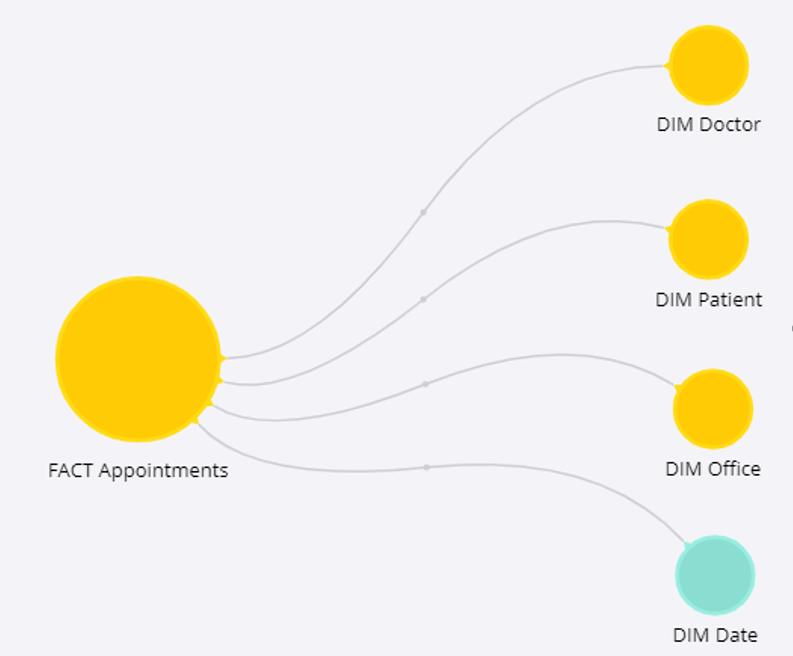 Plugins & Scripts Used