Visualizing Your Financial KPIs
The ultimate purpose of any business is to make money, right? Even if you're a non-profit, you need to know you're spending every penny that comes your way in the best, most efficient and productive way you can. This means your financial KPIs are the fundamental driving force of your organization. You need visibility over all aspects of cashflow, profit and loss and other financial considerations, you need them fast, and presented in a clear, easy-to-digest format.
That's why it's essential to:

a) Select the best Key Performance Indicators (KPIs) to help monitor the financial health of your business, and
b) Have the right tools in place to visualize, interact with, and analyze the data to draw out rapid, actionable insights.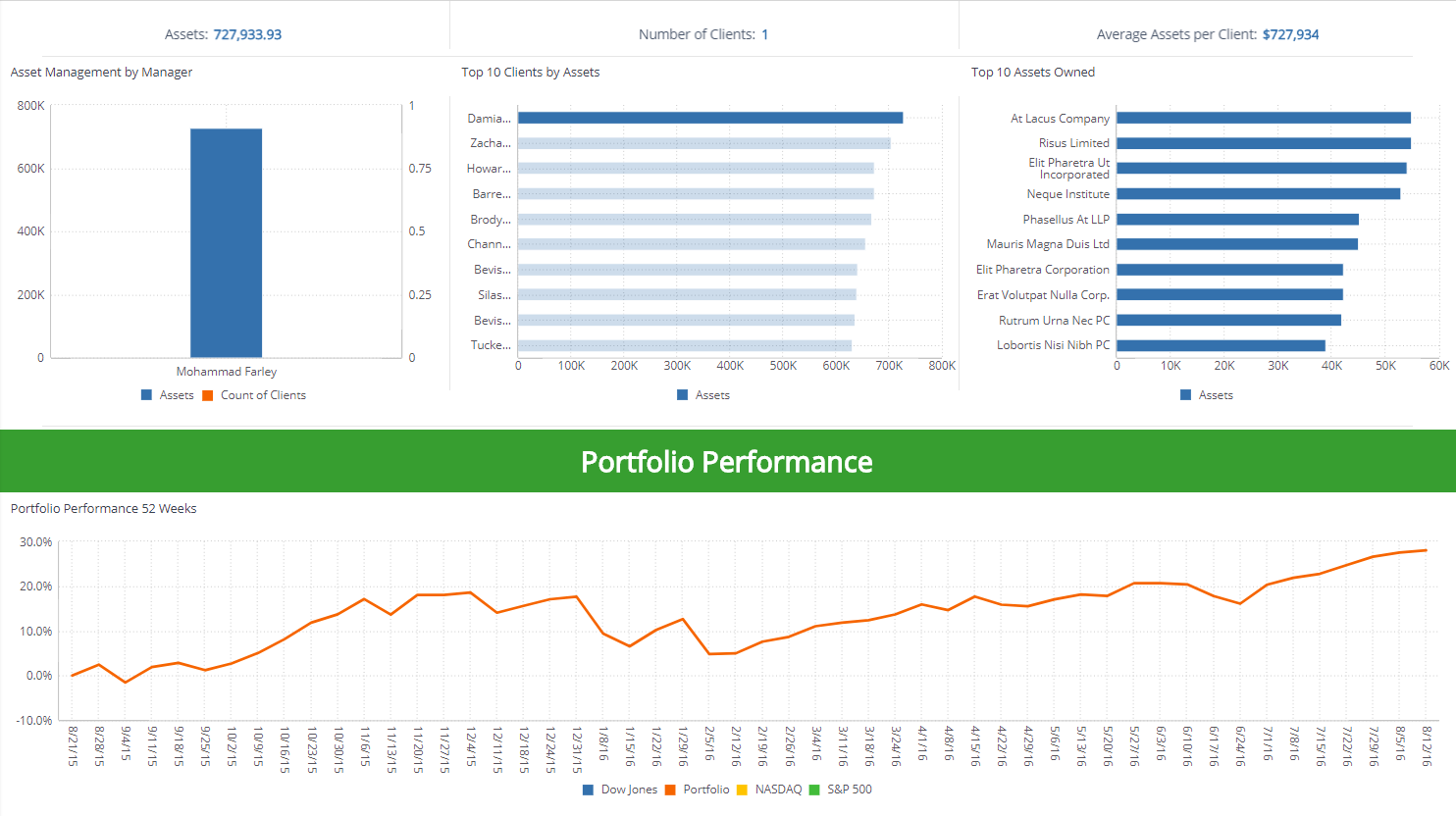 Sample Sisense Dashboard Measuring Investment Portfolio Performance
Which KPIs Should I Choose?
Put simply, you need to know how much money is coming in to the company compared to how much is flowing out of it, as well as how much it's costing you to make each sale or onboard each new customer. There are various ways to answer these questions, all of which give you a different, nuanced viewpoint. To get you started, we'll guide you through the following example financial KPIs, explaining why each one is so important, when you would use it and which calculations you would use.
Opex to Sales Ratio
What Does It Mean?
"Opex" stands for "operational expenses"; the Opex-to-Sales ratio stacks up how much it actually costs to run your business against how much you bring in from sales.
Read More
Profit and Loss (P&L)
What Does It Mean?
Here, your Profit / Loss is made up of two parts: Gross Profit and Gross Profit Margin. Gross Profit is the amount of money you have left over after you've tallied up the cost of goods sold (COGS), or the service that's been provided, while your Gross Profit Margin is the amount left presented as a percentage of your gross income.
Read More
Net Income (Net Profit) & Net Profit Margin
What Does It Mean?
Like gross profit / gross profit margin, your net income (also called net profit) and your net profit margin show you how much is left after you subtract your expenses from your revenue. The difference is that, while gross profit only takes into account direct costs, net income includes all other costs, including interest, taxes, depreciation and so on.
Read More
Relative Income per Customer Type
What Does It Mean?
This is an KPI used in Retail Banking to identify which types of customers bring in the most money to the organization. Like revenue per customer, or customer profitability, the idea is to figure out which category of customer is most valuable to the bank.
Read More
Investment Portfolio Performance
What Does It Mean?
The Performance Measures KPI for investment portfolios is a way to track how the value of your investments is responding to changes in the market, and how the value of your investments changes over time.
Read More
Debt to Equity Ratio
What Does It Mean?
A debt to equity ratio analysis measures the way an organization funds its growth and how efficiently shareholders' equity is being utilized.
Read More
Gross Profit Margin
What Does It Mean?
Gross Profit Margin measures how much of each dollar in sales is left as profit after accounting for the cost of goods sold. This KPI is a good indicator of a company's financial viability as it highlights whether it can pay off its expenses and still collect revenues from every sale.
Read More
Accounts Receivable Turnover
What Does It Mean?
The accounts receivable turnover ratio measures how many times in an accounting period a company can collect on its outstanding accounts. More specifically, this financial analytics benchmark measures how effective a company is at extending credit to clients and collecting payment. It is ultimately an indicator that displays how wisely a company is utilizing its existing assets..
Read More
Accounts Payable Turnover
What Does It Mean?
Accounts payable turnover measures the rate at which a company can pay its suppliers and other obligations. The KPI is measured over an accounting period, and gauges how many times a company can pay off its supplier obligations successfully. Accounts payable turnover is usually a short-term financial measure..
Read More