What Does it Mean?
Attrition rate is measured as a percentage of the employees that left a business for any reason over a specific period. This periodic measure determines how successfully a company is retaining their employees.
Why Does It Matter?
Your company's attrition rate is important for several reasons, though it may tell you different things at specific points in time. Understanding your company's turnover of employees is an important part of comprehending their satisfaction levels, as well as a first glimpse into the possible causes of the attrition your business faces.
See it in action: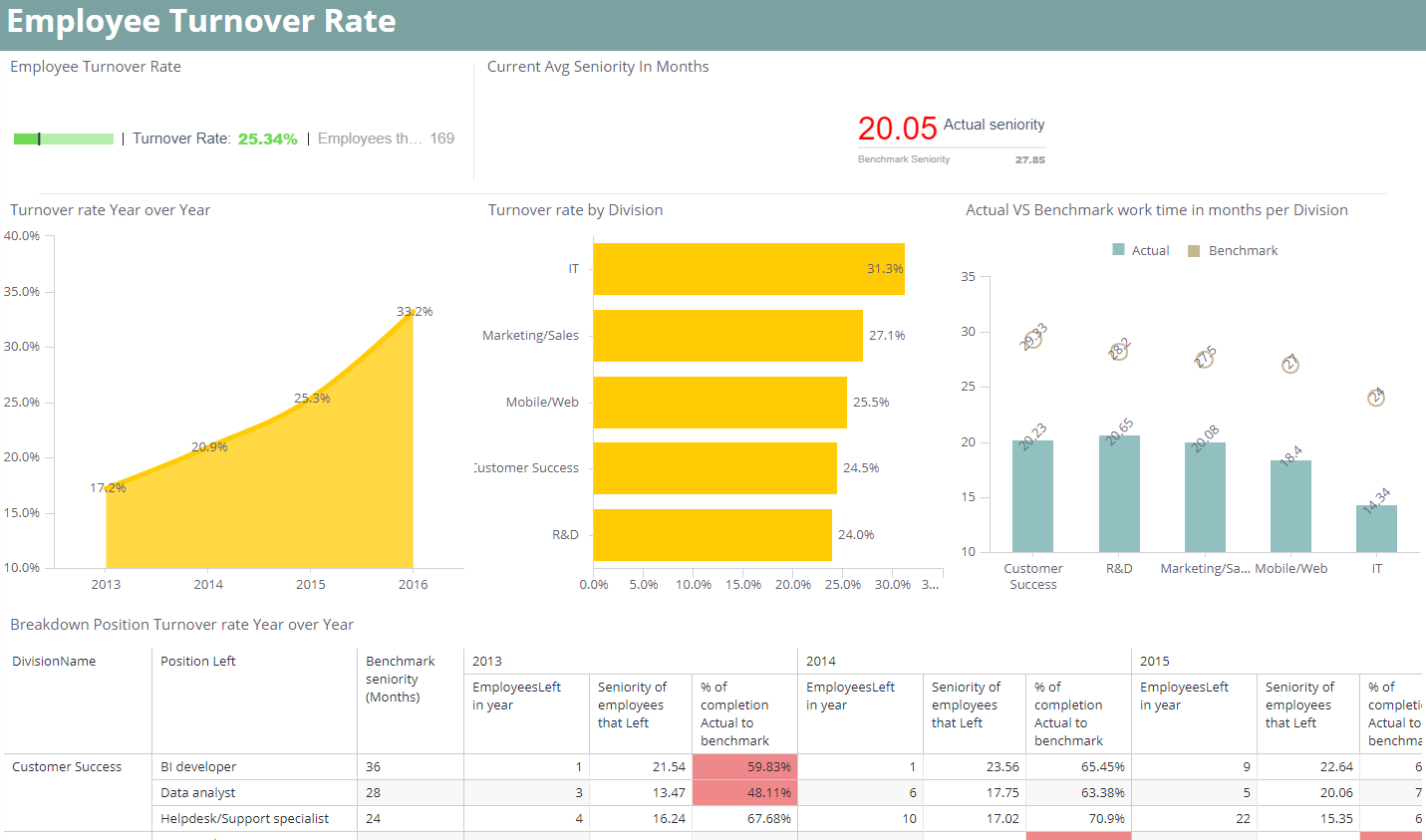 When your company is doing well, a high turnover rate can be an indicator that your employees are unhappy.
On the other hand, if your company is doing poorly, a high attrition rate may simply be a result of a strategy of cost-cutting through downsizing. Generally, however, a low attrition rate means that your company does well at keeping your employees happy and your workplace running smoothly.
How Do You Measure the KPI?
To determine your attrition rate, first you need to define the time frame you're measuring. Once you have that measure established, you can take the average number of employees working in your company (determined as an arithmetic average of the employees in a calendar year or period), as well as the number of those who have left. Then, simply divide the number of employees who left by your average headcount and multiply by 100.
What Sources Would You Use to Measure the KPI?
Some of the most important sources of data for attrition rate arrive directly from your HR department. This includes measuring hires and dismissals, as well as weekly, monthly, and yearly headcounts for employees.
Give Me an Example…
Imagine that your managers complain to you that they don't have enough staff to continue operating at full efficiency, even though you're constantly investing in new recruits and training.
Once you examine your current payroll, you notice that even with the influx of new hires, your employment numbers are well below your optimal levels, and the problem is not new. Understanding your attrition rate on a consistent basis can help you make changes more rapidly to avoid losing employees and the accompanying investment while revealing why they are leaving. More importantly, it can help you adjust your policies and strategies accordingly.
What Benchmark/Indicators Should I Use?
Some useful indicators include:
Employee satisfaction
Total employee turnover
Total headcount per year
Average yearly headcount