Sisense Accelerates Cloud Analytics with Amazon Web Services
Sisense's Elastic Data Hub allows users to combine live and in-memory, cloud and off-cloud data in a single dashboard leveraging the power of Amazon Redshift.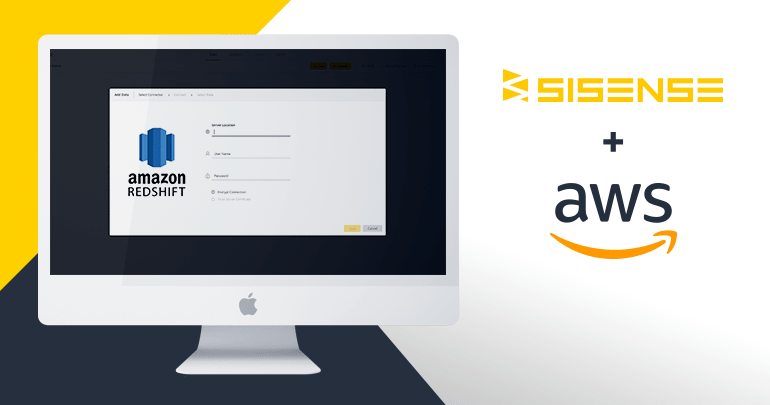 NEW YORK – Sisense, disrupting the business intelligence (BI) market by simplifying business analytics for complex data, today announced the release of its new Elastic Data Hub, a unique offering in the BI space that allows organizations to easily connect and mashup live, real-time data with cached in-memory data on the same dashboard. This breakthrough offering leverages Sisense powerful, live data connector with Amazon Redshift from Amazon Web Services, Inc. (AWS), a fast and powerful, fully managed, petabyte-scale data warehouse service in the cloud.
"Customers are moving to AWS to improve their analytics agility and discover new business insights," said Ken Chestnut, Senior Manager, AWS. "Sisense Elastic Data Hub enables customers to analyze and combine on-premises legacy data, cloud applications data with the powerful capabilities of Amazon Redshift."
"Sisense and AWS have helped us provide real-time analytics, by providing insight across all of our data," said Praveer Kumar, Co-founder/CTO of Finxera. "The Sisense Elastic Data Hub capability has made it easy to have a live view into our data in Amazon Redshift, and the flexibility to add other data sources to have a consolidated view across our data."
Sisense makes it possible for customers to continue to use existing, on-premises data assets and cloud applications data sets while taking advantage of new investments in modernizing their analytics posture on AWS. Sisense eradicates external data silos by providing a single BI platform for all data sources regardless of where data is stored.
"Sisense leverages Amazon Redshift to deliver a complete solution for analytics with capabilities to combine, manage, and analyze data faster," said Amir Orad, Chief Executive Officer of Sisense. "This new functionality will continue to pay dividends for clients moving to Amazon Redshift by helping them take advantage of new sources of data. Teams can easily create cached high-performance data models in Sisense that can be analyzed alongside live data from Amazon Redshift until on-premises data is migrated, speeding up time to insights and helping reduce management overhead."
Click to learn more about this new Sisense functionality, or the Amazon Redshift integration.
About Sisense
Sisense empowers the builders of analytic apps with powerful tools to simplify complex data, and deliver insights to everyone inside or outside their organizations. Sisense lets builders collaborate on a single platform, delivered in a hybrid, cloud-native environment with the industry's lowest cost of ownership, to create true democratization of data and analytics. Sisense has thousands of customers across the globe, which are the undisputed data leaders in their industries: Tinder and Flexport leverage Sisense for advanced analytics and data science on top of big cloud data sets, Philips and Nasdaq embed Sisense as the analytical engine of their products, and Salvation Army uses Sisense to rapidly build operational analytic apps to run the business leveraging complex data. The end result is a platform that makes it incredibly easy to mashup data from across the entire data landscape, and transform it into powerful actionable analytic apps that can be embedded anywhere. See why Sisense has been named a leading Visionary by Gartner, named a top company to work for in San Francisco and in New York and recognized for diversity by Forbes. Learn more at www.sisense.com.
Media Contact
Leslie Green Bulleit Group
+1 (415) 742-1894
[email protected]