In-Chip Technology
Run More Queries with Less Hardware
In the age of Big Data, overreliance on RAM resources can be a costly matter. Sisense aims to provide organizations with a solution that can scale to terabytes without requiring additional investment in hardware. This is achieved by making optimal use of all existing computational resources: storage, RAM and CPU.
Watch to learn more:
0:05 – 3:55 Explanation
4:00 – 5:30 Demo of In-Chip Technology
ElastiCube
Easily Manage Complex Data without Relying on IT
Sisense's unique back-end lets non-technical users grab the reins of the data preparation process via a simple drag-and-join interface. By performing row level joins and utilizing a columnar database, the ElastiCube provides a strong, fast, and scalable solution that retains the full granularity of the data and lets you combine data sources with the blink of an eye.
See it in action:
0:05 – 2:25 Explanation
2:30 – 6:00 Demo of ElastiCube
CrowdSpeed
Adding Users Improves Performance
The axiom most BI developers swear by is that more users mean either slower performance or hardware upgrades. Sisense does things different: by breaking queries into micro-blocks and reusing these chunks, it manages to break this mold and actually improve performance as the number of concurrent users increase.
See how it's done:
0:05 – 3:20 Explanation
3:25 – 5:00 Demo of CrowdSpeed
Learn more about ElastiCube and In-Chip analytics: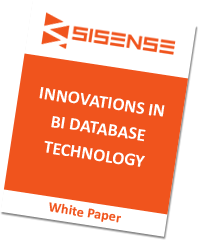 What Customers are Saying
Watch these real testimonials from Sisense users.
Between Vertica and Tableau, Sisense Is Taking Big Data Analytics by Storm
Sisense bridges the gap between traditional, full-stack tools that are expensive and cumbersome, and more modern visualization tools that, while business friendly, lack the powerful technology on the back-end to crunch big data sets.
Read more.
Sisense Is Creating a Stir in the World of BI
Sisense crunch and visualize a terabyte of data using only a sub-$1,000 laptop with 8GB of RAM.
Read more.