And There's So Much More
More Connectors
Time to eliminate some data silos: Sisense 6.5 introduces native connectivity to new data sources including Hubspot, YouTube, Quickbooks, and Box. Now it's easier than ever before to combine data from all the platforms and channels your business uses for innovative insights.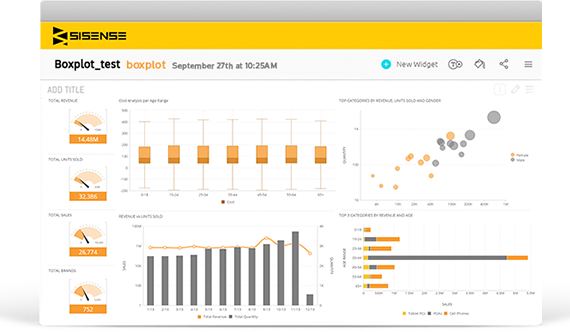 More Analytics
Leverage deeper analytical capabilities, including the ability to easily add conditional statements for more precision in getting the data you want to see, as well as new data visualization possibilities.
More Beautiful
Enjoy the time you spend on your favourite business intelligence platform: we're upgrading your user experience with a modern and sleeker design for the Sisense web interface.
More Mobile-friendly
Now built on Sisense.js, our new mobile app provides unprecedented performance and responsiveness, complete with push notifications for important Sisense Pulse events.
More Enterprise-ready
We've made some important updates to the Elasticube to provide even better uptime and availability for large scale deployments, in a simpler way. Sisense 6.5 introduces atomic, non-blocking, accumulative builds, making it easier to recover from failures and continue working with your dashboards during accumulative builds.