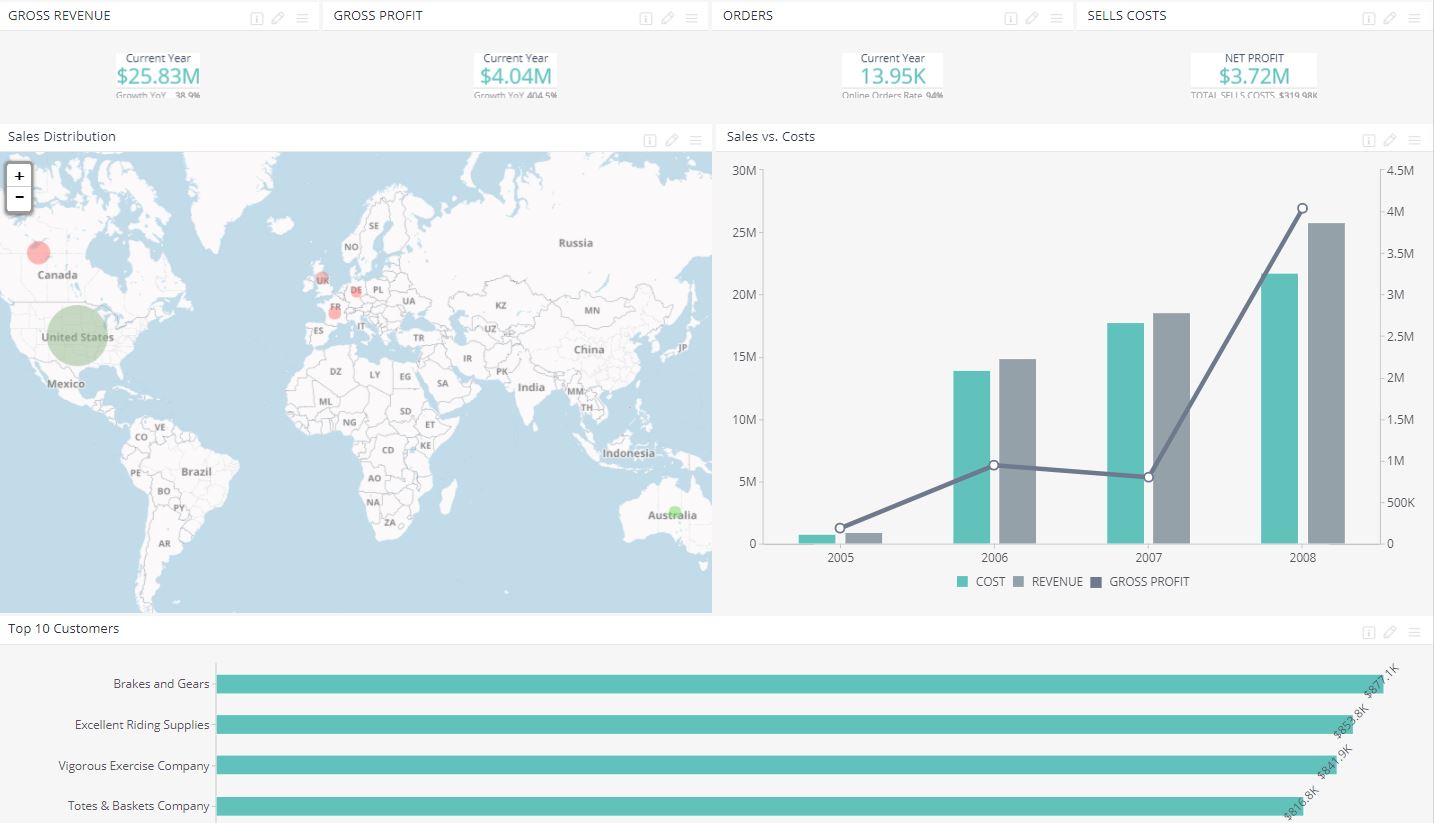 In-Store & Retail Store Analytics
How BI Can Help
A lot goes into running a store besides merely having employees and a cash register. In fact, the best way to maximize any store is through the insights gained through in-store analytics. Although different kinds of stores will operate differently with different products and clientele, some things remain the same across industries.
Retail store analytics software can make clear how customers behave while in the store, providing heat maps for foot traffic and customer attention to help better design store layouts. It can also optimize staff to make sure that the right number are present for the level of traffic, or assist with making break schedules and assigning operational duties during slower periods. Furthermore, retail store BI is capable of showing foot traffic as compared to sales to establish conversion rates, or simply to see if traffic increases during marketing campaigns to assess how effective they are.
Apart from the customer experience and how to optimize it, in-store business intelligence allows an enterprise to assess their employees – who is working best, who should do what job, what kind of customer communication a staff member is capable of, as well as being a tool for payroll issues, a way to establish insights for best practice methods to share across locations, and finding where costs can be cut or where more money needs to be invested. Overall, good retail analytics as they pertain to a brick and mortar store can help optimize the overall customer experience while reducing unnecessary costs and streamlining processes for the business.
The (Big) Data Challenge
There's a lot to consider when operating a store. Whether its optimizing employees and making sure the right number are available and that they can handle their responsibilities, assessing foot traffic and where customers spend the most time in order to adjust store layouts, counting the number of customers that come through as compared to those who make purchases, or analyzing whether a marketing campaign is working, having accurate data is important. Standardized systems that can incorporate disparate data sets, while keeping up-to-date can offer immediate and actionable insights into customer behavior, employee performance, and marketing efforts.
What Retail Store Analysts Should Look for in a BI Solution
A good retail store analytics solution should allow disparate data systems to be integrated in order to account for all relevant information (info on sales, stock, customers, marketing campaigns, employee, payroll, etc.) By creating one overall source of truth, the data can be queried, manipulated to find insights, and drilled down to investigate granular data points, which is even more important if multiple locations are involved. When looking to find extraneous spending and places to cut costs, having a 360° view of the operation is integral. As a store is a very dynamic place, the ability for frequent refreshes and up-to-the-moment information is necessary, as well as a secure system that can safely hold customer information.
Why Sisense?
Sisense considered all the above issues when constructing the product, from the ability to assimilate large and unconnected data sets, to its cloud-based setting which allows for infinite scalability and flexibility to extract even the tiniest data points. Sisense's system can be refreshed at any time making for a consistently up-to-date model. Just as important, Sisense was designed for non-IT users with an ElastiCube technology which permits users to easily create and manipulate their own dashboards. This ability for self-service reporting means a reduction in the time it takes to generate reports, not requiring constant IT intervention, and the ability for store managers and executives to concentrate on their own departmental – as well as global - needs. As a product geared toward industries that require discretion with their information, your customer details will stay private and secure using Sisense.
Watch A Sisense Demo