Sisense vs Domo

BI Vendors Comparison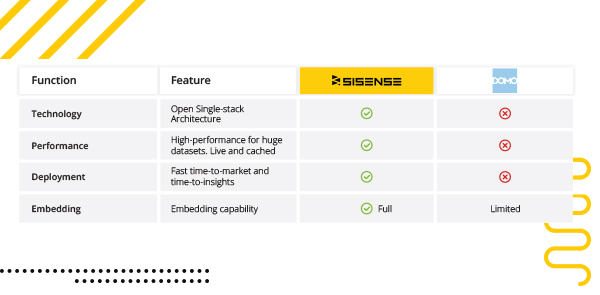 Finding the right business intelligence and analytics solution for your company isn't easy. Each platform has its own strengths, with differing benefits, offering varying benefits, and every company has characteristics that make its priorities unique.
That's why, when considering Sisense vs Domo, it's important to investigate the functionality and capabilities of their technology that each of them offers, their range of use, complexity, interactivity and user experience.
Domo is a niche product, that positions itself as a cloud-based analytics and BI platform aimed at senior executives and line-of-business users.
Sisense is a big data analytics solution that enables business users to analyze and visualize large volumes of data, complex data sets and/or data that comes from disparate sources.
Find out about the differences between the two solutions and learn how to choose a vendor that fits your business needs and your business model.
Domo vs Sisense: BI Vendors' Comparison. Find Out Why Businesses Like Yours Choose Sisense Over Domo.