Every company is becoming a data company. Data-Powered Apps delves into how product teams are infusing insights into applications and services to build products that will delight users and stand the test of time.
Every company is working toward harnessing data and analytics in its own way in order to stay relevant in a changing business world. Product teams in organizations of all kinds have had to grapple with the build versus buy question when seeking to infuse analytics into their products.
One streamlined way of delivering analytics to customers is white labeling and infusing analytics into apps.
The ability to white label and infuse reports and dashboards into products and workflows allows you to serve actionable analytics capabilities without having to build the functionality from scratch yourself.
The ability to add best-in-class dashboards to your app but brand them as your own gives your app a new pathway to success without expending serious dev time. Adding the power of world-class analytics reports to your app, while saving time and avoiding developer costs, is a win-win.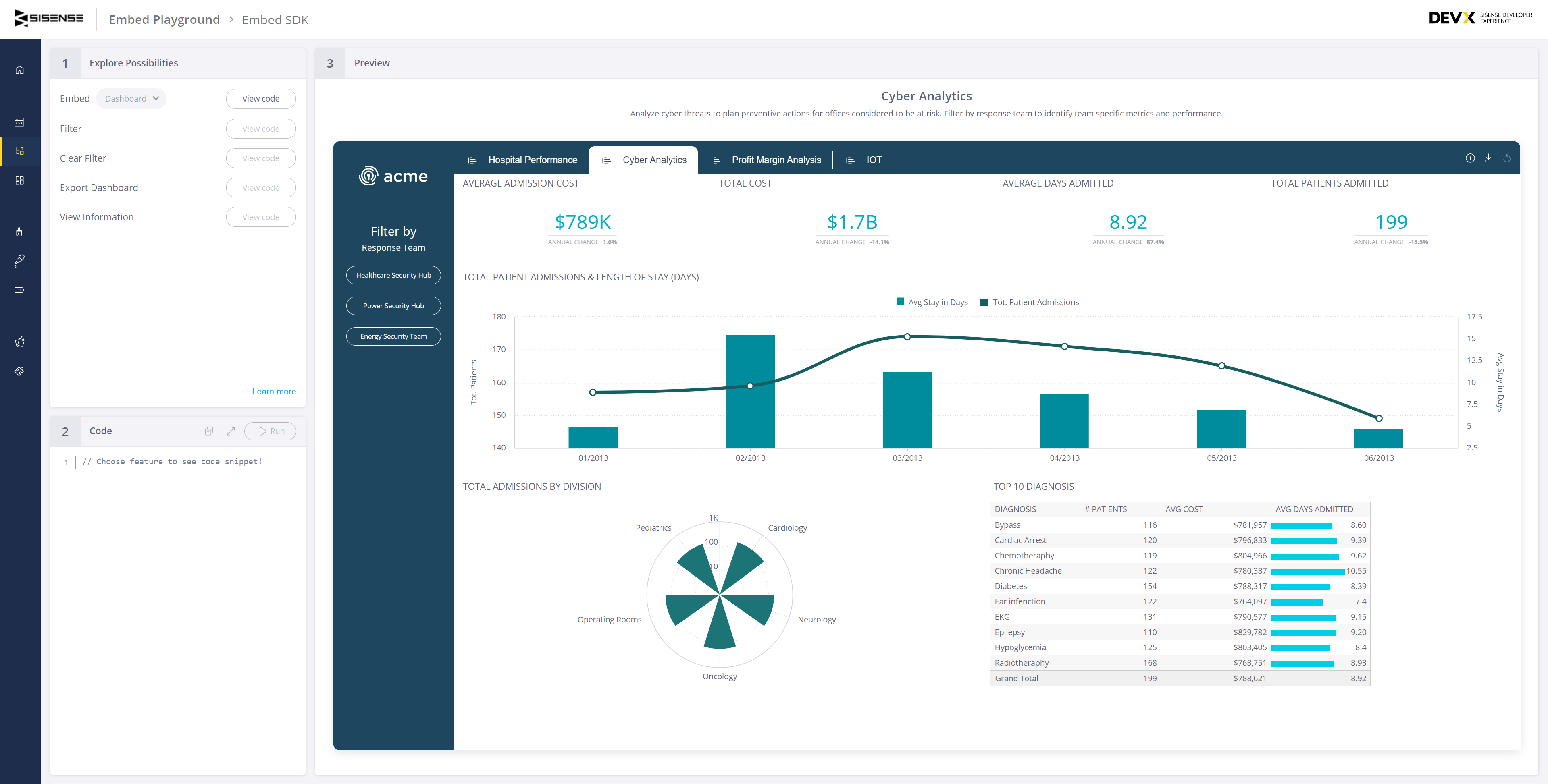 The benefits of white labeling and infusing dashboards into your products include:
Increasing the added value of your app
Monetizing actionable insights
Streamlining the user experience
Increasing brand recognition, loyalty, and strength
Leveraging third-party developer expertise
Using components that are already refined and tested
Choosing from the best-in-class available tools
Customizing using a flexible API and SDK framework
White labeling reports and dashboards can sound a bit like magic, and from your users' point of view, it kind of is! They get to enjoy the superior reporting power infused into your app and branded seamlessly as your own.
You get to provide them with top-tier reporting power, just by choosing the right platform and integrating it with your product. Let's take a moment to understand the basics of how to coax this genie out of the bottle.
Give users the data and insights that make sense:
Learn how to deliver
What are white-labeled reports?
White-label reports and dashboards are essentially microservices that you subscribe to from a third party and infuse into your product. The provider's analytics platform plugs into your data source, crunches your numbers, and then generates reports and dashboard data visualizations.
The right platform will give you total control over the widgets in your data visualizations, ideally in a user-friendly UI editor (like in Sisense's Embedded Playground).
The best experience for product teams includes the ability to use your company's logo, colors, and styles to match the reports and dashboards to your enterprise's existing web app.
White-label platforms like Sisense include extensive features that appeal to every level of enterprise user, both tech and nontech, front end and back end, business facing and customer facing. You have total control over the outcome.
White-label reports: Under the hood
To implement your dashboards via a white-label platform, you'll build pages that perfectly mirror your company's branding, look, and feel. Logos, colors, fonts, and more — everything that captures your existing styles and preferences — can all be customized to match your app's look and feel.
Other features you'll need for a strong white-labeling experience include:
Centralized config for selecting brand logos, colors, and text style
Easy UI for creating and editing your reports
Flexible interface for designing dashboards and widgets
Report generation in a variety of formats such as HTML and PDF
Full rebranded user interfaces, including dashboards and email reports
Exploring white-label dashboards
As you might imagine, white-label dashboards are UIs designed to facilitate user interaction with the analytics outcomes generated from data, also distributed via the white-labeled reports.
The dashboard will contain all the controls, settings, and preferences users need to extract and present the insights from data. Beneath the surface, advanced features like Sisense AI and machine learning (ML) functions can enhance the analysis even further, transforming it into impactful insights in seconds with point and click, self-service capabilities.
Beyond simply adding white-label reports to your product or service, these powerful features can help take your use of data to the next level — an important consideration when selecting a platform to help you infuse analytics into your offering.
When you're ready to add analytics via white-label reports, begin by sketching out how you want your reports to look visually. Next, compare your desired outcome with your platform's capabilities. Platforms like Sisense usually boast a vast array of models and suggestions.
Now that you know what you want everything to look like, define and connect your data sources. Once the data is flowing to your reports, you can tweak your presentations until they look and operate exactly how you want. Have a look at Sisense documentation to see how easy it is to plug in and create reports. Here are some of your options:
Model: Blend big data from a variety of sources into Sisense machine learning algorithms. Leverage data directly from the data source using Sisense Live, or import data with the Sisense ElastiCube.
Analyze: Create impressive visualization dashboards that make it easy to derive insights and make decisions on the go.
Impact: Deliver game-changing analytic applications with Sisense BloX plugin. Build advanced layouts, custom navigation, and even integrate third-party software (such as Salesforce) directly into your dashboards and combine actions and insights in the same place.
Use case snapshots: White-label reports and dashboards in action today
Nasdaq Investor Relations uses Sisense to infuse interactive reporting into its core offering, enabling customers to dissect and manipulate their data in innovative and impressive ways via white-label reports and dashboards.
Nasdaq requires the industry's highest level of data security standards, and states that Sisense meets all of its compliance standards. Among the outcomes Nasdaq offers its clients via Sisense is the ability to input both their proprietary data and data they license from other entities in order to layer everything together and generate impactful new insights.
Sisense is so flexible that the displays in question can appear as a Nasdaq-branded product or under the guise of a Nasdaq customer's app, as required by the client. The white-label product is ideal in use cases where proprietary data-use standards must be tightly controlled and firewalled within designated user groups.
The business intelligence needs of Tessitura included providing its clients with a reporting and dashboard platform that would be innovative and constantly evolving.
Tessitura chose Sisense as its BI platform because it needed to match the look and interactivity of any new dashboard with the existing Tessitura brand. The result is a customer experience that meshes perfectly with the needs of Tessitura's clients in the arts and culture marketplace, providing powerful and flexible data modeling presented and branded as Tessitura components with AI mechanics provided by Sisense under the hood.
Horsepower under the hood
Matching your app's look and feel is only part of what a platform like Sisense brings to the table. Sisense ML- and AI-powered analytics underlie white-label reports and dashboards, giving product teams access to robust analytics without the need for advanced coding support.
Some quick facts about white labeling with Sisense:
2,000 leading brands white label analytics and reports and dashboards with Sisense
Sisense's innovative AI and ML solutions lead to faster insight, action, and impact
Comprehensive suite of APIs, SDKs in Sisense developer toolkits
Point-and-click UI for customizing your reports
RestAPI automation options
Cloud-native and fully containerized microservices architecture
Flexible deployment options and K8S compatible
Enterprise scalability, security, and compliance
Elastic Data Engine drives data pipeline, analytics outcomes to UI
Whatever you're looking to do to infuse data and analytics into your product or service, Sisense can make it easier and make you (and your data) look good.
Give users the data and insights that make sense:
Watch a Demo
Tomer Lapid is a Product Manager for Sisense analytics and reporting. He brings 20 years of experience in a variety of R&D, customer-facing, leadership, and product management roles that he combines into one superpower: problem-solving!