Watch a Sisense Demo
We protect your personal information in accordance with our privacy policy.
Business Analytics Software

Built for Complex Data
The only business analytics software that lets you easily prepare and analyze big, scattered datasets.
Start Free Trial
1. join data from multiple sources
True insights take all your data into account. Sisense gives you the ability to combine data from many disparate sources into a single repository.
Unify disparate data into one centralized place
Skip the data preparation nightmare. Collecting and preparing your data is the starting point for all that is business intelligence, and a lot of effort is spent just on that. Sisense provides the end-to-end technology that allows non-techies to easily join large data sets from multiple sources, and create one neat and centralized repository of all data–with no scripting, no expensive hardware, and little to no help from IT. Say goodbye to the tedious work of standardizing data before you can start to analyze it, and head straight to visualization and insights.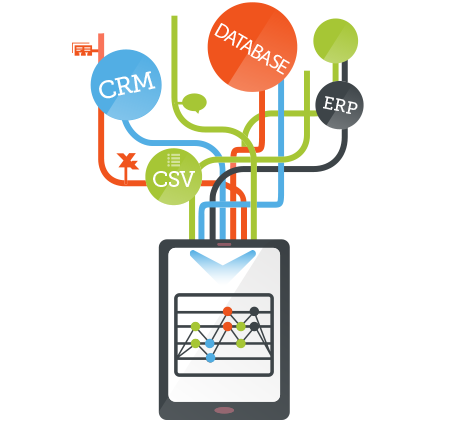 Drag & drop joining of multiple data sources
Use built-in connectors to join multiple data sources and formats including: Excel files, Google Adwords and Analytics, information from a CRM, and all other organizational databases. Sisense provides built-in integration with Cloud applications like Zendesk and Salesforce. While other business analytics tools require an IT department to prepare data by programming sources to speak the same language, Sisense is the only business intelligence software on the market that lets business users drag-and-drop data to easily combine large data sets.
Create a single version of truth with perfect data
True insights is all about working with data that is error-free and up-to-date. Sisense ensures the numbers you get are 100% accurate by consolidating data correctly and taking all of your data into account, no matter how large and from all disparate sources. Everyone in your organization can then analyze the same numbers and rely on a single source of truth. Rest assured the trends you harvest are high-quality, and arm decision-makers with the most accurate information.
2. analyze with brilliant data visualizations
Drill into details and zoom out to the big picture. Our beautiful dashboards ensure your results are quick, easy to absorb, and fun to enhance.
3. share interactive dashboards
Enter a world where everyone in your organization can access insights, build upon existing reports, and work with a single version of truth.
"Taking Big Data Analytics by Storm" – Forbes
Sisense's groundbreaking business intelligence software is radically changing the way organizations make decisions.
It's what we're famous for.