High Level Design
Overview
A
profit and loss
statement (P&L) is a financial statement that summarizes the revenues, costs and expenses incurred during a specific period of time, usually a fiscal quarter or year. The P&L report is prepared as frequently as managers need them, usually monthly or quarterly. A P&L report goes to the manager in charge of each profit center; these confidential profit reports do not circulate outside the business.
Dashboard Example (sample data)
Click on the image to open and interact with the dashboard: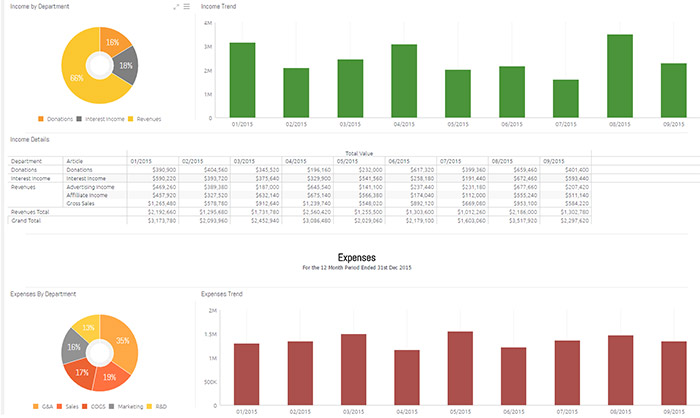 Goals
Provide information about a company's ability – or lack thereof – to generate profit by increasing revenue, reducing costs, or both.
Objectives
Show whether a business has made a PROFIT or LOSS over a financial year and describe how the profit or loss arose – e.g. categorising costs between "cost of sales" and operating costs
KPI Architecture
Objectives
KPIs
Measures
Break by
Data Source
Income
ε $ Value
Where Type = Operating Expenses
Income or Non-Operating Income
Quarter, Month, Department, Article
Expenses / income report
Expenses
ε $ Value
Where Type = Operating Expenses
Quarter, Month, Department, Article
Expenses / Income Report
Net Income
ε $ Value
Quarter, Month, Department, Article
Expenses / Income Report
Data Modeling (Elasticube Design)