Implementing analytics at your company is a multi-team job. In Building Bridges, we focus on helping end-users, app builders, and data experts select and roll out analytics platforms easily and efficiently.
Selecting and implementing a new BI and analytics platform is a big decision and can be a vital part of an organization's digital transformation. Rolling out a new platform involves everyone who'll implement, maintain, and most heavily use such a platform.
Advanced analytics and BI democratize access to data, empowering more business users to develop insights, with less reliance on data professionals who have previously been gatekeepers of this information. As business teams become more involved with data in their day-to-day work, it's natural that they should play a role in choosing the right platform and determining how it will benefit their organization.
Making these decisions — which platform to choose and how to put it into operation— requires buy-in from both the analytics and BI team (the probable end-users/frontline users) and the data team (who will prepare the data, build the models, and connect datasets).
Importantly, to make the best decision for your organization, each team must understand, acknowledge, and address the needs and concerns of the other.
Working together: Understanding priorities
Mutual understanding can only come about via dialogue between teams, so that they can understand the priorities and needs that their BI and analytics platform should meet. It's important that the analytics and BI team clearly indicate their needs and that the data team understand what the BI platform will be used for and how they can build the right data model(s) to suit the analytics and BI team's requirements.
To help achieve this, let's look at some considerations that data teams and analytics & BI teams should discuss in the vital conversation about selecting and implementing a new platform, so that they both can get the most out of the process.
The five big questions
First, when considering a BI and analytics platform for your organization, there are five big questions that everyone should ask, irrespective of their function. A simple yes or no answer in each case, will help you determine quite simply some fundamental requirements that a platform should fulfil. These five big questions are: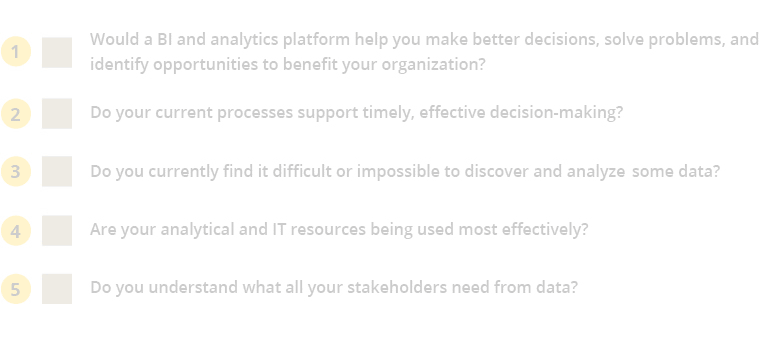 The conversation
Armed with the answers to the five big questions, you're then in a position to drill down into some details about what a BI and analytics platform should do for you. This is where the really interesting conversation starts, as you establish where your requirements, questions, and concerns both converge and diverge. We envisage that the conversation could go something like this:
Usability
BI & Analytics Team: Can we find a BI and analytics platform that's really user-friendly? Can you involve us in choosing something that offers self-service analytics, so we don't have to hassle you all the time to help us crunch complex data? We'd really like to be part of the selection process.
Data Team: Sure. Let's work together to find a platform that can meets your needs and ours. From our perspective, we need to be confident that a platform is robust and that it can handle on-premise and cloud data from any source.
While the data team is concerned with storing, connecting, and preparing data for analysis, the BI and analytics team is concerned with examining the data and creating relationships and comparisons between datasets, in order to surface insights and visualize the data. The former are data experts. The latter is more focused on the business needs and usability is a priority for them.
"When we were using a different BI platform, I wouldn't let frontline business users touch it," says Jennah Crotts, data analytics manager at Jukin Media. "They'd click one thing, everything would break, and I'd have to rebuild it from scratch. Now, with Sisense, if somebody is up to speed on their data and has gone through some basic training, I can copy a dashboard and give them ownership."
Governance
BI & Analytics Team: It's really important that we make our data as accessible as possible to as many users as we can, without unnecessary impediments. Can we make this happen?
Data Team: Certainly, but let's not forget governance too. It's also important for us to be able to control access to our data and ensure that proper policies are in place
Data management, including security, is a priority for the data team. Accessibility and the democratization of data are key focuses for the BI and analytics team. To maximize the utility of an analytics platform and the value of data to an organization, data for decision-making should be as accessible and as easy to understand for as many end-users as possible.
Trust and accuracy
BI & Analytics Team: For data, and ultimately insights, to be as accessible as possible, we need analysis and visualizations to be as simple as possible to find and use. Can we ensure that this is possible?
Data Team: We want to make this happen for you, while at the same time ensuring that data isn't inadvertently mishandled and that problems don't arise when setting up new KPIs or dashboards. We need to protect the data, the methods of accessing, and the ways it can be analyzed and visualized, while making it as accessible as possible
Both teams are concerned about the quality of the data they're handling. The BI and analytics team, and end users, want to be sure that they're receiving and analyzing the most accurate data as possible. However, it's the data team's job to manage and prepare the data, and optimize its accuracy, by ensuring it's "clean", without errors, duplications and without it being available to unauthorized users. The ability to set access programmatically, by group, team, department, or individual is an important feature that Data teams will look for in a BI platform.
"The benefit to using a BI system," says Jennah, is that: "Even if you have all of your data mapped beautifully, is: Can you make sense of it? Can you notice trends? Can you identify what's going on? Having the right BI tool and visualizations can allow you to do a lot of things."
Scalability, agility, and capacity
BI & Analytics Team: It's really important that we get the most value we can from a BI and analytics platform. So it shouldn't just be suitable for now. It must be able to scale with the growth of our business. And scaling up shouldn't be costly. Positive ROI is essential.
Data Team: Agreed. The platform we choose must be scalable, and agile, to respond to the growth of our business, the increase in the volume of data we're handling, and changes in our market that require us to pivot. It needs to have the capacity and capability to grow with us.
In the interests of the business, the BI and analytics team seeks to maximize ROI, which is why ensuring that a BI and analytics platform is future-proofed so that it can scale up with the growth of the organization and the data it generates. The data team is solely focused on the capability of the platform to scale up and its capacity to handle increased volumes of data.
"To test the agility of the platform, I was able to connect the technical person at Sisense with our guy in engineering," Jennah says. "This was helpful because if you try to reword what your tech guy is saying, it just won't make sense. So when the right technical people can speak directly to each other, it helps the flow of the setup enormously."
Cost-effectiveness
BI & Analytics Team: On the subject of ROI, a BI and analytics platform has to be cost-effective. It needs to save users time and resources while improving performance, and decision-making. We need to be sure we can achieve these aims, so we should conduct a proof of concept before making a final decision.
Data Team: Indeed. We appreciate that we can't implement a complex platform just for complexity's sake. It has to serve our business, our needs, and our objectives. And it has to address the particular challenges that any business has. A POC is essential.
When it comes to cost-effectiveness, the teams align. Both need to ensure that their choice of BI and analytics platform can deliver what it promises, what each of them requires and the maximum benefits to their organization, with no hidden or unexpected costs.
Versatility
BI & Analytics team: Please keep people — the users — in mind. We really need to put end-users first vs focusing mainly on IT needs. Any platform that we choose must be able to solve a range of different data-related issues, each of which affects different people in different functions within the business.
Data team: We actually think that our objectives meet here. Our platform of choice must be able to handle the widest variety of data from the widest variety of sources, precisely to maximize accessibility and usability. More and more data is unstructured (text, video, audio, graphical data and the like) and comes from non-technical sources. It requires technology like NLP to deliver usable findings for all. We want to reduce the time it takes to clean, integrate, and maintain data.
So, for instance, the C-Level wants to see high-level performance reports across departments. Mid-level executives want to make better decisions in their line of business. All data, and all types of data, must be accessible to all, subject to governance and policies. This necessitates that a BI and analytics platform be as versatile as possible.
"We're starting to get more and more positive feedback from our C-level executives," Jennah reports. "They're saying things like, 'This is a lot cleaner looking.' 'You were able to make those changes a lot quicker than I'm used to.' 'You're able to get this to me faster.' and stuff like that."
Speed
BI & Analytics team: We're missing opportunities when we can't get insights quickly. We need data and visualizations in real time so we can make decisions and pivot fast.
Data team: We get it. Speed and ease of use are critical, but so is thoroughness. We must be sure that we choose a platform that handles and manages all our data properly so you can be confident that you're getting the best and most accurate insights.
In a world where data is generated by the second, quickly getting your BI and analytics up and running could give you a competitive advantage. More importantly, making data-driven real-time decisions can mean the difference between success and failure, so from a business perspective, speed and ease of use are imperative. They should not be impeded by the need for accurate data management and preparation, which advanced BI and analytics should be capable of achieving equally quickly.
"The head of our content acquisition team, a major data consumer, was unsure about our switch. She was worried about transition costs and maintaining access to her particular data requirements." Jennah says. "But when I showed her the first Sisense dashboard on a remote screen-share and was able to edit the dashboard to her specifications in real-time, she lost her mind over the speed and ease of use of the new platform."
Implementation
BI & Analytics Team: How are we going to implement a new platform? We want results quickly so we can make decisions fast and get changes under way.
Data Team: Let's not rush this. We'll do our due diligence with a POC and ensure the right platform meets our needs, then consider how best to implement a new platform within the organization. If we get it right the first time, it'll be easier, quicker, and more cost-effective in the long term. Tell us what you need and that will dictate timing.
Implementation can happen incrementally by department, company-wide in one sweep, limited to certain levels within an organization, and it's important to decide whether to include embedded analytics and white-labeling for new revenue opportunities. All of these considerations will influence how quickly a new platform can be implemented.
"There's been solid social interaction with the right kind of people who understand what they're doing. Our sales guy did his homework and came back and hit every single request with full beautiful explanations," says Jennah. "That allowed me to go to leadership and say they're definitely getting a POC because they hit all the boxes. Because when the VP of engineering gets on the phone and starts asking the questions, they need to be able to answer them."
Cloud, on-premises, or hybrid?
BI & Analytics Team: We need to have the fastest, most flexible, and most scalable access to data of any kind and in any form, to benefit as much as possible from the information we generate and handle. The Cloud has the capacity and flexibility that legacy on-premises solutions lack. Plus, cloud solutions include support, maintenance, and upgrades, which is cost-effective.
Data Team: Sure. We just need to consider whether we put all of our BI and analytics on the cloud, run it on-premises, or have a hybrid of the two? And how do we handle legacy systems on-premises? Is it more cost-effective and efficient to migrate them to the cloud, or maintain them on-premises alongside cloud analytics for newer data?
This is a key consideration when seeking to maximize the capabilities of BI and analytics and future-proofing them. The future of data and analytics is in the cloud. Its capacity is almost unlimited. You only pay for the capacity and processing power you need. There's no need to invest in your own IT servers or additional data center facilities or hire a team to manage and maintain the application. The cloud services vendor will do all of that for you. And implementation is immediate, with no lead time need for ordering, installation, or deployment.
"I was really interested in a cloud-based interface." Jennah reports. "I didn't want a situation I had with another platform where I was constantly downloading and uploading data to communicate with internal business users. Other platforms that are so reliant on Internet speed won't cut it in our current situation. It's faster for me to build reports from scratch in Sisense than it would be to edit them in another platform."
The first step to data-driven success
Choosing and implementing the right BI and analytics platform is a major project that can be hugely valuable for your organization. It will enable you to maximize the value you get from your data and will optimize the insights you can take from it. Plus, done right, it will empower many more of your colleagues to engage with data, and make vital decisions. Asking these questions and having this conversation, can be the first, essential step in establishing a successful, data-driven future that can supercharge your organization.
Adam Murray began his career in corporate communications and PR in London and New York before moving to Tel Aviv. He's spent the last ten years working with tech companies like Amdocs, Gilat Satellite Systems, and Allot Communications. He holds a Ph.D. in English Literature. When he's not spending time with his wife and son, he's preoccupied with his beloved football team, Tottenham Hotspur.