A couple of years ago, when I first joined Sisense, we held a Product Team offsite. My manager had a list of projects he wanted to promote, one of which was a Customer Council. Having a Customer Council is really well aligned with our company's values and culture. We value our customers' opinions and want to build a product our customers will love.
I took over the task of building the council, thinking it would be a good way to get to know our customers and pretty simple to organize. What I actually found was that pulling together the first Council took nine months and was very complex. Even the decision of whether to name the forum "Customer Advisory Board" or "Customer Council" was one we debated.
We recently finished hosting our second annual Customer Council event. It was amazingly successful, and I'd like to share some insights into what goes into putting together such an event.
1. Choose your participants well
The key to a successful Council is selecting the right participants. We decided on the following criteria:
Contract age of at least 12 months – We aimed to have participants with experience working with our product.
Representation for our customer-base segments – To ensure a wide perspective, we wanted representatives of our main customer segments and tiers.
The Right Champion – We searched for participants with key attributes to help the Council succeed:

Knowledgeable of our product, but also with a wide vision and a point of view about the field.
Influencers at their company.
Open to discussion and sharing their insights.
Positive outlook on our company, and interested in joining our journey.
It's important to note, we were not looking for exclusively happy customers, and did not expect to hear only the good about the product. In fact, we were mainly interested in hearing what was wrong with the product and how we could improve.
Given these criteria, we built a list of candidates, getting input from people across the company, and finalized a list of 10 participants who agreed to attend.
2. Create the right atmosphere
The Customer Council is about creating a forum that would feel comfortable with one another, fostering open conversation and creating an atmosphere where customers can share their own experiences, even unsuccessful ones.
Customers needed to sit around a table and talk about things that may not be going well with their implementation. These are people who don't know each other and may not know us yet. A feeling of trust was critical for the success of the Council.
Sisense is a global company with a lot of our work done remotely using GoToMeeting and Skype. Despite that, we felt that kicking off the Customer Council should be done face to face. We believed that sitting in the same physical space around a table would help foster the open discussion we wanted.
We kicked off the Council with an evening social event, followed by a full day of work sessions at our company's headquarters. The intention was to allow us all to spend time together, relax and enjoy the company, and come to the work session after we had that shared experience. The social event included a lot of food. Eating together quickly breaks down barriers, and we were soon laughing and talking like old friends.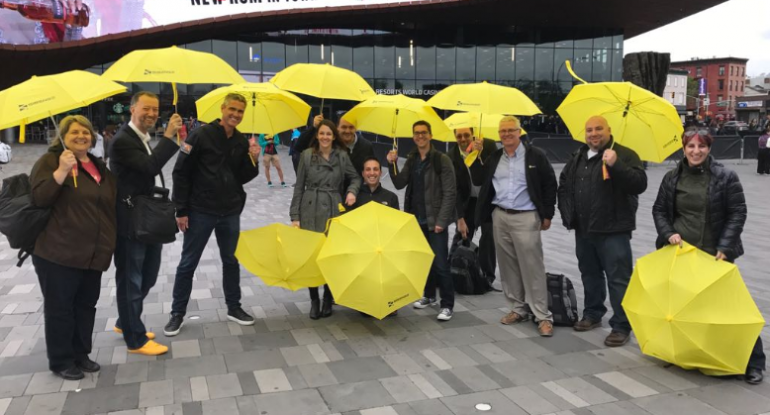 3. Plan the agenda
The next day was devoted to working sessions with a full agenda. We prepared the sessions ahead of time, making sure we were fully utilizing the valuable time of our customers and making it worth their while, and ours, to attend.
Even with having a planned agenda, we didn't lose sight of our main goal. The purpose of the day was to listen to our customers. We were flexible with the agenda and let the conversation shift if what was happening in the room veered a bit off course.
The agenda included a "meet your peers" session, multiple sessions discussing our roadmap and future plans, and a use case presentation from one of the attendees. The focus of the day was not a roadmap discussion. The focus was on answering the questions: "What is missing from our plans?", "What else would you like to see there?", and "What are we getting wrong?".
A highlight of the day was the "have your say" session where customers got to use poker chips to vote for the features they would most like to see added to our product. It was really interesting to see which features were prioritized by the forum – they weren't always what we expected.
The Product team left the day on a high. The depth of the discussions and the openness of our customers to share really blew our mind. Most importantly, they gave us amazing insight into who our customers are and what their needs are.
4. Plan future sessions
The Customer Council is not a one-off event. It's about creating and cultivating ongoing relationships. That's why the face-to-face meeting is followed by quarterly remote meetings.
Having already established a close relationship at the Customer Council makes it very easy to pick up the phone, Skype, or email, and reach out to customers when we need to. The feedback they continue to provide in these shorter meetings on features we're considering is incredibly helpful.
It's important to remember as well that this is a two-way street. The ongoing conversations we have with customers are invaluable to us but they're also a great way for customers to come to us with things they want to talk about. Keeping our regular, quarterly schedule strengthens the relationships on both ends.
5. Do it all again
You can't stop at just one Customer Council. This is a program you need to commit to and repeat on a yearly basis. Just recently, we convened our second annual face-to-face meeting of the Customer Council. Again our customers were great partners and shared their thoughts about where we were getting things right and more importantly, where we weren't. Our customers were not shy about voicing their opinions and we value that.
After all, the Customer Council is about listening to our customers and being open and willing to learn from them.