Marketing strategies are only as good as the results they produce. If an expensive campaign can't get you the conversions you're looking for, it doesn't matter how great it looked on paper. For many marketers, the problem isn't always the ideas themselves, but rather that the data they are using to drive decisions is either incomplete or not being interpreted properly.
That's where business intelligence comes in. Marketers rely heavily on data to determine where to place their campaigns, whom to target, and how to best allocate their resources. To be effective, they need to properly turn raw numbers into actionable insights that will enhance their strategies.
The advantages of business intelligence tools let companies visualize their data in diverse ways that can produce more actionable results.
These are some ways a robust data analytics software and BI tools can turn your prospects into customers.
Use marketing analytics to drive growth and revenue
Learn how
1. Ask the Right Questions
For marketers, it's vital to not simply ask questions but to pose the right ones. Defining success and metrics to track it are vital components of planning a strategy. They can also be easily misapplied, however, and lead to a misunderstanding of the data that can lead to inefficiencies and lost opportunities.
One of the benefits of BI is the ability to sort through massive amounts of data and generate actionable insights from it. To work optimally, it needs to ask the right questions about the data being produced. For this, the best marketing dashboards include the option to define a variety of key performance indicators and other metrics.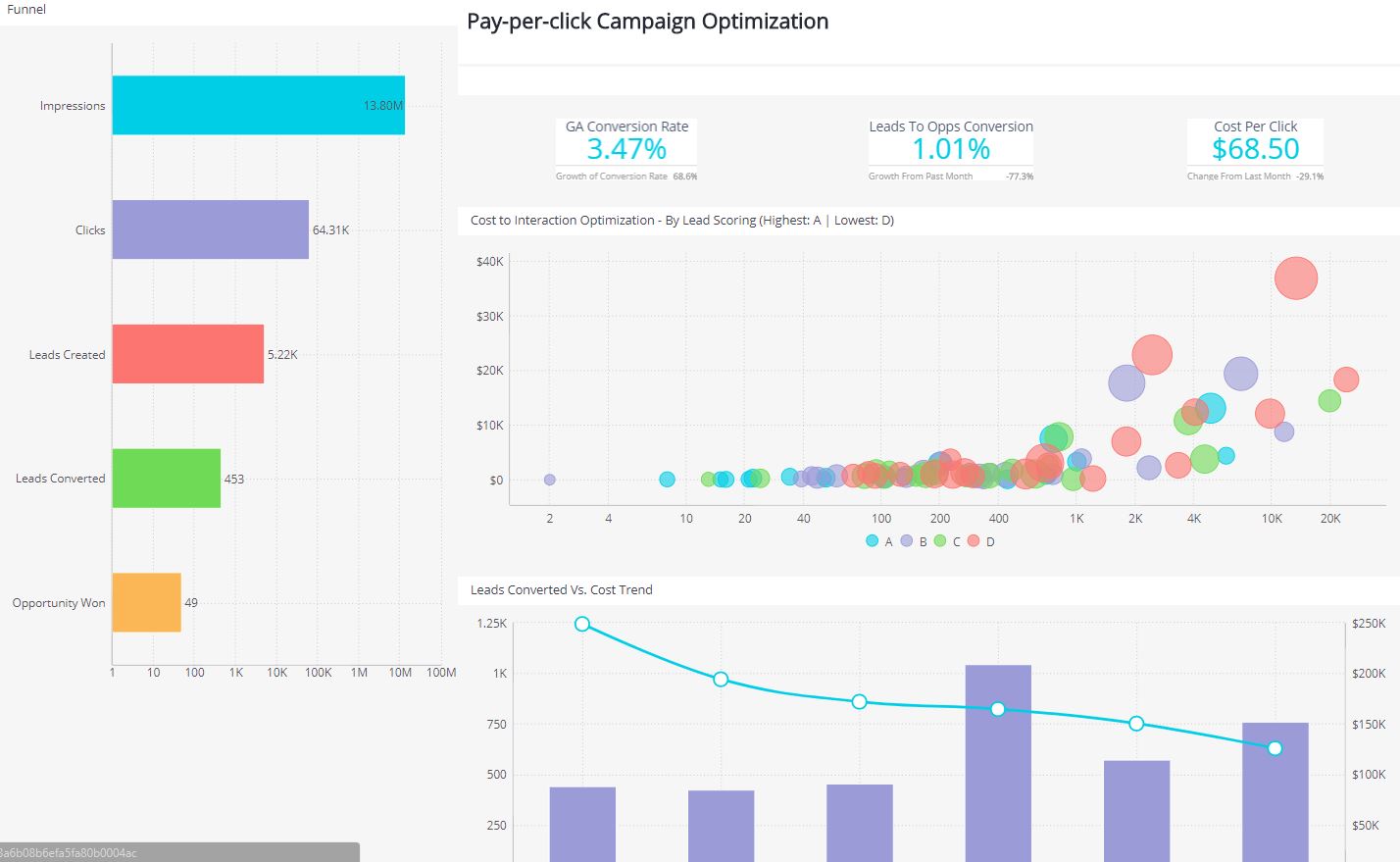 The problem with massive amounts of data is that while getting one answer is easy, finding new actionable insights can be costly if there is no agile way to scan through terabytes of data quickly. For a company like Crowd Mobile which works in mobile services, preferences and trends constantly change, and slow analytics can mean thousands in losses.
BI tools help expedite the analysis process while also refining it. This empowers companies to react quickly to industry changes, track their success more effectively, and find the data that is worth exploring more swiftly.
2. Better Define and Target Your Key Demographics
A major pain point BI can solve for marketing professionals is narrowing down demographics to find the right audiences. The most successful strategies and campaigns work because they are able to send the right message to the right people at the right time.
One of the biggest benefits of business intelligence and analytics is its capability to collect information from a variety of disparate channels and provide a complete view of a company's customers across every channel.
More importantly, BI can organize this multi-channel stream and create more actionable data that considers a variety of factors. By targeting not just demographics, but also engagement, ROI, purchasing and interaction patterns, companies can build a complete view of their target customers.
The best companies who use marketing analytics to evaluate demographics can better define their audiences and thus target them more easily by looking for the right metrics.
3. Improve the Quality and Speed of Reports
It's vital for marketing companies to collect as much data as possible, from as many sources as they can. The reason is simple. Better insights deliver a company the ability to enhance strategies and also react faster to changing preferences and trends.
However, collecting data from disparate sources can become problematic if it isn't uniform, and there's no process to standardize it. This can lead to difficulties when attempting to produce actionable insights that aren't outdated in a few hours.
For industries where marketing is around-the-clock such as online gaming, spending days on reports instead of hours can mean losing customers to competitors. However, it doesn't have to be that difficult. For online gaming mega-site NetBet, the problem wasn't the amount of data, but the disparate formats and sources it was arriving from.
Their marketing team depends on data to target their events and promotions better, but incompatible sources meant a substantial portion of time collecting information was spent unifying these data streams into a usable format.
One of the biggest benefits of business analytics is that it is programmed to capture data from several sources and convert it into a clean stream for parsing and visualization. By cutting down on the time it takes to standardize data, companies can react to an ever-changing market.
Use marketing analytics to drive growth and revenue
Learn how
Want to see how Sisense's Head of Lead Gen uses analytics to drive decisions? Hear straight from the source in this on demand webinar.