Sisense Data Connector for Google BigQuery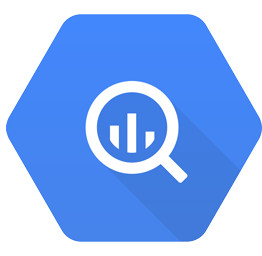 Optimize Your Cloud Investments with Sisense and BigQuery
As an official Google partner, the Sisense platform is your complete analytics solution that seamlessly connects with your live BigQuery data.

Google BigQuery is a fully managed, cost-effective cloud data warehouse built for programmatic and production workloads. Sisense enhances the performance benefits of BigQuery to offer the lowest total cost of ownership for analytics and provides advanced capabilities to combine, prepare, and manage data in BigQuery significantly faster.

BigQuery is ideal for fast prototyping and optimizing analytical workflows. You can jumpstart your data models and drive results without large investments or analytical teams. Together with Sisense, your analysts and business teams can eliminate technical bottlenecks and deliver fast time to insight.
The Benefits of Google BigQuery
Best for fluctuating workloads, fully managed solution, ad-hoc query of vast datasets, programmatic and production workloads

BigQuery is easier to use

Auto-cluster resizing without fixed storage size limits

Best to use if are not sure what your analytical data model should look like or you have lots of data that is rarely queried

BigQuery could be more appropriate if you don't project needing a large analytical team in your organization, or can't afford to dedicate resources to build world-class analytics

AI/ML first – if you are a Data Scientist working with a new dataset, you could build a prototype faster with BigQuery

The Benefits of Sisense and Google BigQuery
Real-Time Insights with Google BigQuery Native Connection
Connect live to your BigQuery to power your dashboards with real-time queries. Linking up to BigQuery and building complex, custom live data models is easy. Make smarter decisions with real-time intel powered by insights from your live BigQuery data warehouse connection.

Connecting to BigQuery and Beyond
One data source is never enough. Sisense's easy-to-use platform pulls in live data from BigQuery and cached data from anywhere else you've got it. The Elastic Data Hub allows for limitless analysis with live and cached data on the same dashboard. Meanwhile, the In-Chip® engine boosts performance. Pulling in data from outside BigQuery, dealing with multi-cloud setups, and staying on top of changing requirements are all par for the course with Sisense. Enjoy one hybrid solution for your end-to-end analytics needs around your distributed data.

Single Source of Truth
You're never going to get all your data into BigQuery. Data silos are a thing of the past with Sisense: use one analytics platform to handle any data models and every source. Departments and teams can easily build high-performance data models inside the Elastic Data Hub to suit their needs and run those analyses alongside live BigQuery data. A single, unified platform improves adoption and simplifies governance for lower management overhead.

Fast Cloud Migration
Still migrating to BigQuery? Don't sacrifice analytical availability during the process. Use native data models to stay up and running and still get a live connection to your BigQuery data. Get business continuity and unbroken business value without being hamstrung by the migration process.

Unmatched Service Flexibility
Anyone can model and analyze complex data with Sisense. No more relying on IT for help querying live data connections. Get a service model that fits your company and your users' skill levels so they can be empowered to get insights on their own.

Save Time and Money, Boost Performance
Sisense is the total package when it comes to delivering high performance and low costs: Elastic Data Models balance performance and lower TCO for exploration and analysis. Meanwhile, the powerful In-Chip® engine saves you time and money by handling analysis of cached, existing data. Don't refresh your whole database whenever you have new data; only connect to BigQuery when you need BI insights from live data.

Managed Cloud BI = Zero Headaches
Let your teams do what they're best at with a Sisense managed-cloud deployment. Take hardware worries and IT challenges off your plate completely with this fully-managed, secure, and scalable cloud option.


Getting Started
To get started with the Sisense-BigQuery connector, follow the instructions here.



Not a Sisense user yet? Try out Sisense free trial!

MORE DATA CONNECTORS