Sisense offers a suite of capabilities that make data management simpler by enabling control, transparency, reuse, and better collaboration. A unified platform allows you to take a hybrid approach to data whether querying live data or cached data in Sisense or working with data in the cloud or on-premises.
Data management
The Sisense Elastic Data Hub provides a single platform to prepare, manage, distribute, and govern any data.
Live or cached models: Create data models using both live or cached data in a single interface with a unified governance and analytics infrastructure.
Centralized model management: Manage all your data models in a centralized manner to set security, share data models, and check dependencies all in one place.
SQL modeling

Custom SQL: Extend tables with custom columns and create new tables using standard SQL and an extensive library of functions.
Import SQL Queries: Run SQL scripts on the connection string to limit, merge, or perform transformations before importing data into Sisense.

Data modeling

Track Changes: Sisense highlights pending and unbuilt changes in the model and provides the ability to redo and undo changes.
Preview Data: Filter column values or sample the dataset to validate data.
Relationships: Drag and drop tables to create relationships. Utilize the smart relationship interface to perform multiple joins quickly and preview results.
Metadata: Easily visualize the data model's data sources and table sizes with colors and size indicators.

Sync Sisense data models to changes in the data sources

Change connections to the underlying data source with a few clicks at the group or individual table level. Sisense groups data connections for quick access. Refresh
table-level fields to sync with underlying source tables or views.

Build settings and scheduling

Schedule full or accumulated data loads at desired frequencies. Option to build only changes for quick development.
Programmatically schedule updates using APIs.

Build server settings: Work with the Sisense technical team to tweak advanced build server settings to fine tune and optimize data loads and server responses for specific use cases.
Query transparency
Visualize the queries a widget performs on the data model so you can understand which tables are used in the query, and which relationships between the columns of the tables are in-use by the queries. This can help you troubleshoot your query by displaying the relationships and data involved and identify possible ways to optimize performance.
Query management
Sisense Logical Mashup Layer and Query paths: Sisense is completely unique in that it doesn't load the entire data model with all the joins into memory for dashboard querying. Instead, Sisense generates run-time queries optimized with Sisense smart
machine-learning based caching mechanism to provide unparalleled flexibility for analytics development and end-user interactivity and drill down.
Query execution: Look into the data and joins behind any visualization to troubleshoot or optimize performance. Sisense JAQLine visualizes the underlying query.
Test queries

Retrieve JAQL or SQL queries utilizing simple JavaScript commands or pull SQL queries from Sisense Log files.
Execute queries programmatically or port data: The JAQL and SQL REST API Endpoint enables you to execute queries programmatically against the Sisense ElastiCube for testing or porting data for integration.
JAQLRunner/SQLRunner: Sisense JAQLRunner or SQLRunner tool enables you to execute and test queries

Manage queries: Control connections to Elasticube by canceling queries, stopping or restarting data models.
Change management
Sisense's logical data mashup layer enables easy updates and changes to the data model without the need to refactor work for every small change.
Data dependencies: Sisense automatically lists analysis, dashboards, and workflows dependent on the ElastiCube to make updates easier.
Versioning: Sisense data model schemas, data, and dashboard files can be integrated with chosen source control and versioning repositories like Bitbucket, Git, GitLab etc.
Dev to Prod: Manage your BI as a part of your SDLC and promote between environments with Sisense's Dev to Prod tools and capabilities. Migrate dashboards directly from the Sisense Web App with a single click using the Copy to Server functionality. Migrate ElastiCubes by duplicating the schema file and kicking off a build.
Deploy assets programmatically: Programmatically move and deploy assets using the Sisense REST APIs and Sisense Shell commands.
Data model reuse
With Sisense, save time and effort by reusing your work from across the application.
Data model reuse: Reuse each data model across multiple dashboards, users, or use cases.
Row-level security: Limit data access for different users or groups within the same dashboard by enabling data security.
Formula reuse: Sisense starred formulas enables reuse of complex business logic and analysis across dashboards.
Duplicate data models by simply renaming one and kicking off a data load.
Duplicate dashboards with a single click.
Copy widgets: Drag and drop widgets between dashboards to reuse widgets or save efforts in building similar widgets.
Powerful performance and usage monitoring
At a glance, see details on important performance factors like system resources, query speed, and data model synchronization to name a few.
Query performance monitoring
Sisense monitoring: Track key metrics to ensure system health with Sisense Monitoring. Get insights into the status of queries, data loads, and system resources to track the overall health of the analytics system.

Query monitoring: Provides information about the success and failure and the volume of queries being sent to the ElastiCube Server.
Builds monitoring: Get details on build status timeline, build blocks timeline, and extensive build details.
Infrastructure and server usage monitoring: Correlate performance problems with system changes. Keep infrastructure up and running with visibility into key metrics including system information, server information, CPU utilization, memory utilization, disk utilization, I/O utilization, network utilization, and Sisense component-specific metrics, amongst others
Build alerts: Administrators can set automatic alerts if a data load has failed to take necessary actions.

User monitoring—Usage Analytics: Get insights into dashboard interactions, performance, and viewer activity across your deployment. Filter and drill into the activity of specific users or dashboards to the finest level of detail. Customize the Usage Analytics Dashboards and ElastiCube to suit your needs.
Monitor sensitive data Sisense add-on: Enable logging of information when any user views row-level data from specific tables and columns.
Sisense logs: Sisense generates extensive logs (with options to change the detail and verbosity) that can be used for troubleshooting
Collaboration
ElastiCube Co-Development and Access Control: Keep ElastiCubes secure by sharing them only with required users with the right access control (can query or can edit). In addition, Sisense encourages collaboration on a single data model with the right controls by allowing only one person to edit a data model at a time.
Tagging and descriptions: Increase flexibility and create future-proof data models. Tag tables and add descriptions. Group tables and columns by defining metadata without affecting the underlying data model.
Dashboard ownership and sharing: Transfer ownership of dashboards with a single click to enable collaboration on a dashboard. Share each dashboard to end-users with specific rights.
Comments add-on: Leave notes and comments on dashboards to encourage collaboration and adoption.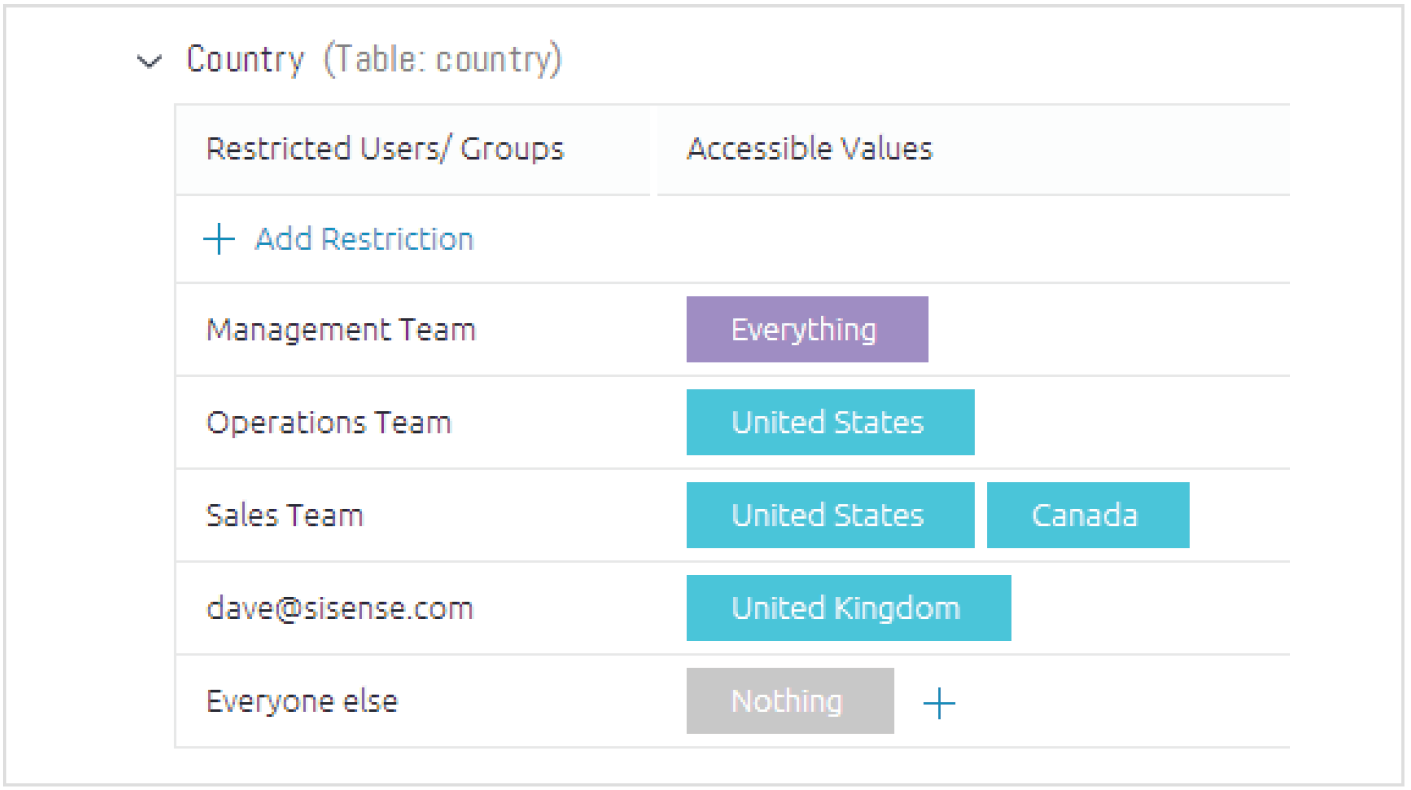 Fine grained control of data model
With Data Level Security, a single data model can be shared with many users, with each viewer accessing only the data they have permission to see. This not only provides
fine-grained security, but reduces development time because replicated dashboards do not need to be built or adjusted independently.
Security and governance
Sisense's platform enables you to integrate with your existing system of record and authentication systems to ensure that users have the right privilege, access, and security restrictions.
Multi-level security: Manage security from system-level down to data- and row-level for individual groups or users.
Object level access: Set degrees of access control to data models based on the user or user group.
User groups: Apply access rights on the group level along in addition to the individual level.
Customize row-level security: Customize and integrate row-level security requirements directly with external systems through an available external service.
Automation and integration
Sisense can be customized extensively to build a complete solution to match specific business needs. Utilize other tools and languages like Python, batch scripts, etc. to perform automation and integrations with Sisense.
REST APIs and Sisense shell commands: Integrate to other systems and automate frequently run tasks like user and security management, installation and deployment using REST APIs and Sisense Shell Commands.
Deployment wizards: Deploy Single Stack or High-Availability configuration in a matter of clicks via easy-to-use deployment interfaces.
Automatic deployments: Completely automate deployment of Sisense and
assets-from installation, loading up users, configuring settings and SSO, deploying and building data models with the right data sources, to importing and sharing dashboards.
Scale horizontally and vertically
Sisense proprietary In-Chip® technology and scalable, memory-optimized columnar database provides the best possible performance as the environment scales. In addition, Sisense's High Availability configuration can be leveraged to support high concurrent usage and Big Data while ensuring uptime and disaster recovery.