Master Infused Analytics, Advance Your Marketing Game
Marketers and data: It's complicated
As a marketer, you love data. But the path to full and deep commitment is rocky. Picture this: Your marketing campaigns aren't firing on all cylinders. Your customers have changed their buying habits, and you have data flooding in through multiple channels while your boss is asking you to improve your ROI. You know the right insights could help save your campaign, but the problem lies in your business intelligence and analytics (BI&A) tools that inevitably let you down. And, to add insult to injury, your team gives a big thumbs-down to the long and winding process of getting and sharing insights to drive decisions.
Marketers need to make data-driven decisions every day, but they struggle with data analytics adoption due to inflexible BI&A tools that require them to exit workflows and business applications.
The data doesn't lie
BI&A users struggle with analytics adoption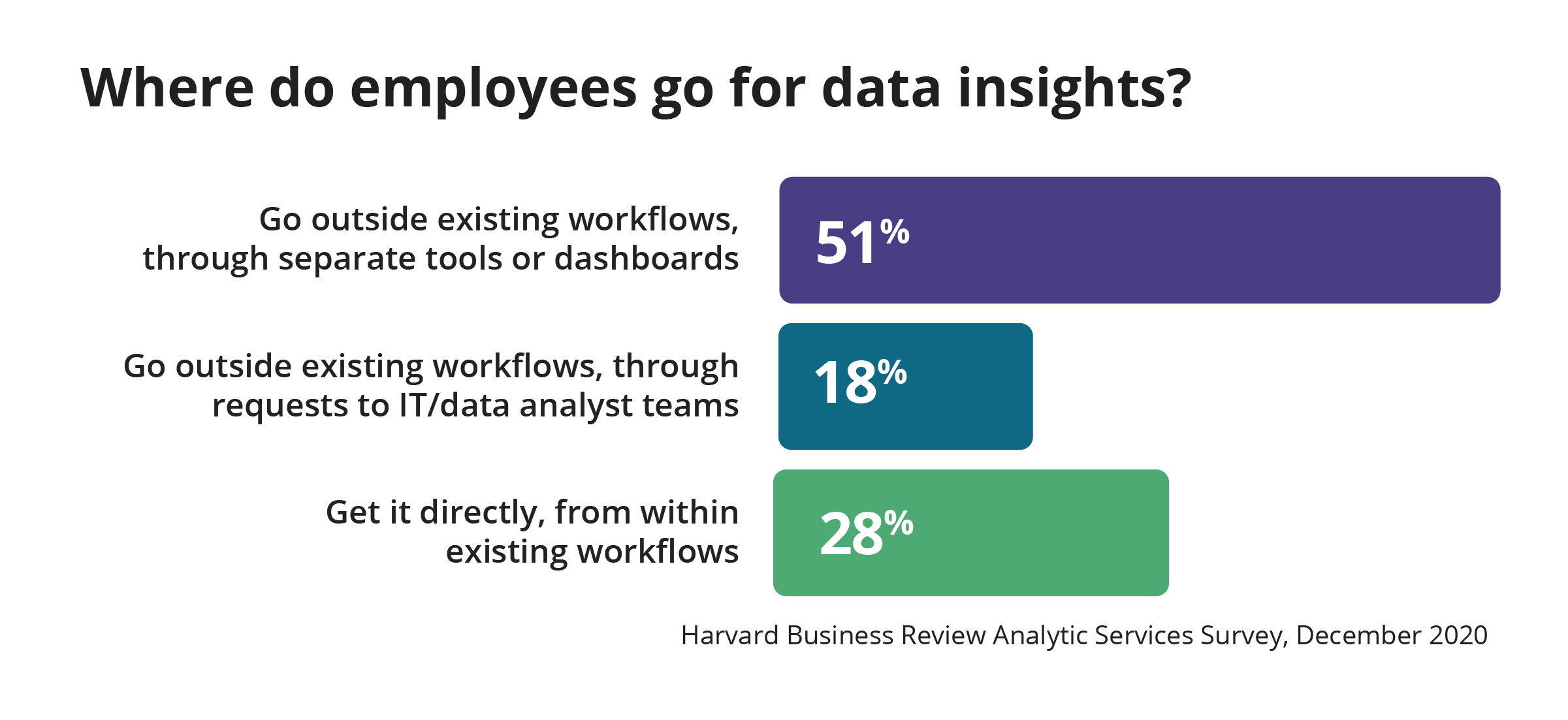 Use advanced analytics for better results
Marketers who infuse a variety of data sources and advanced analytics into their creative campaigns grow their revenues at twice the average rate of S&P 500 companies, reveals a McKinsey survey of over 200 CMOs and senior marketing executives. They consistently integrate multiple insights and analytics techniques, including customer-journey analytics, advanced analytics, and artificial intelligence (AI). Marketers are also tapping into hidden sources of insights such as chatbots, voice search using AI, and natural language processing (NLP) to personalize and optimize their campaigns.
The Sisense way — It's as easy as 1-2-3
Data meets the team
Ensuring user adoption in marketing teams requires a new approach — one that embeds insights into your CRMs and communications applications like Slack, so your team can meet and really get to know their data. With Sisense, you can infuse marketing analytics into your existing workflows, processes, and business applications to drive a data-centric culture to fuel revenue and growth.
Seamlessly share conversion rates from your Google and Facebook ads with team members, embed updated dashboards in PowerPoint, and use accurate data to drive every step of decision-making.
1. Embed dashboards into applications
Sisense dashboards are embedded into the applications your teams already use and dynamically updated with cross-system, near real-time data, ensuring their decisions are informed by a single source of truth. With embedded dashboards, you can connect marketing initiatives with business outcomes. You can, for instance, build a dashboard that brings in both marketing and sales data to give you a picture of how much of an impact each marketing campaign has had on revenue and drill down into each to get granular details.
Infused analytics in action
Monitor lead engagement via an embedded Salesforce dashboard to time sales outreach
Report campaign results with updated data using embedded PowerPoint dashboards and Google Slides
2. Infuse into processes
Make analytics effortless for your team. Through Slack, they can share data visualizations, like performance of their various ad campaigns, and take actions immediately. They can go further and schedule meetings to discuss the insights, arming everyone with the updated data in PowerPoint or Google Slides, all without having to navigate out of their communication channel. With Sisense, making data-driven decisions becomes natural, intuitive, and seamless, leading teams to embrace an analytics-first culture.
Infused analytics in action
Get campaign performance alerts and take immediate actions in Slack
Pause low-performing ads
3. Automate workflows and infuse AI
Automating manual workflows is the third analytic infusion option. With Sisense, alerts can be built based upon defined data thresholds with customized actions built directly into them. Your team can take action directly from the notification itself — whether it's stopping spend on an underperforming ad, scheduling a meeting, or going directly to the applicable dashboard. Further, Sisense gives you the opportunity to infuse AI into your analytics to help your team find the answers to their data questions.
AI-powered infusion in action
Ask questions in plain language and with incomplete information
Sisense's NLP delivers accurate responses and guides team members to next questions and associated responses
Sisense at work: Crowd Media improves marketing operations and efficiency with Sisense
Crowd Media is a global mobile entertainment and micro job company that allows customers to crowdsource answers to questions from experts around the world.
Challenge
Sift through disparate sources of data in marketing, operations, and finance departments to make analytics-driven decisions
Pinpoint best-performing ads across channels, improve overall marketing reporting, operations, and efficiency
Action
Marketing campaigns and initiatives are tracked through Sisense to monitor problems
Marketers get a granular view of marketing efforts to enable optimization-on-the-go
Team Live dashboard on a TV monitor displays important KPIs along geographical locations
Outcome
With infused analytics, Crowd Media
Finds the best-performing markets and channels
Calculates earnings from text messages, taking into account fees and marketing costs
Increases overall customer retention
"Today, everything is in the dashboard, and the team can get the answers they need directly and start acting on those insights faster than it would have taken me to even document their request!"

– Ian Clark, CTO, Crowd Media
Jump-start your marketing org
Embed actionable insights everywhere and start realizing the transformational promise of analytics today.
Unleash the power of infused analytics to fuse data with marketing strategy and drive superior business outcomes. Experience Sisense in action.
Start free trial