State of BI & Analytics Report
Introduction
More than ever, companies are leaning on data, and specifically insights that arise from data, to navigate a new path forward.
In 2020, Sisense surveyed 500 data professionals in the US about how their use of data analytics has shifted due to the public health and economic crisis. The adoption of data analytics is widespread across many industries. Our survey — which includes respondents from companies of many different sizes and across a diverse set of industries — offers a window into the broad business impact of COVID-19.
The results are insightful. They reinforce how critical analytics are to businesses during times of crisis. They demonstrate that small businesses are leading the charge in their use of analytics. They reveal which new industries have increased their analytics use as a result of the market turmoil.
Most importantly, this survey demonstrates that data professionals remain optimistic about their business prospects, about the importance of analytics generally, and that there are many opportunities to leverage data, despite the current economic challenges.
Executive summary
Sisense surveyed 500 US-based data professionals and business executives — across different industries and roles — to understand how COVID-19 changed their outlook and the day-to-day work of BI and analytics professionals.
Key takeaways:
BI and analytics professionals remain optimistic: Analytics are as important as ever to our respondents, offering them certainty in a time of tremendous uncertainty. Forty-nine percent of those surveyed said analytics were more or much more important than ever. Respondents report an increase in analytics use and new opportunities across all departments.


Small businesses lead the charge: Facing different business challenges, smaller companies shifted the most to adopt new use cases for their data in response to the crisis. They lead larger enterprises in the use of analytics across every department with 68% of small businesses using analytics in Operations, 56% in Finance, 50% in Sales and 45% in Product.


Companies are using their data in new ways: Over half (55%) of businesses have started to use data to improve efficiency, 47% to support customers, and 45% to predict future outcomes. Larger companies are more focused on cutting costs than small businesses, who are more focused on efficiency and supporting customers.
BI and analytics professionals remain optimistic
Data professionals are optimistic about the role data will play to enable important decisions for businesses. This is despite 67% of businesses sustaining a loss of revenues or customers, according to Dresner Advisory Services.
Analytics are increasingly critical during times of crisis
In times of crisis, businesses turn to data to navigate change and uncertainty. At a time when many companies are short on resources and evaluate the trade-offs to stay afloat, responses to the survey indicate that data and analytics programs aren't seen as disposable. Fifty percent of survey respondents told us they use data more often or much more often than before COVID-19:
Increased use of data: 50% of companies use data more often than before.
Resources to manage data: More than half of respondents report that they feel their business is properly resourced for the increased need for data-driven insights.
Investing vs. cutting back: Only 14% are cutting back spend on analytics programs, while 65% are increasing budget or maintaining spend on data analytics.
Increased or flat budgets for analytics, despite an overall decrease in tech spending, makes sense. Companies are now looking to spend on new cloud technologies that allow them to better analyze and monetize their data, according to The Wall Street Journal.
Optimistic business outlook
Most respondents are optimistic about their business outlook as well. Seventy-nine percent of those surveyed believe they will either stay afloat or invest and grow during the crisis. Those companies found BI & Analytics to be just as or more important than before.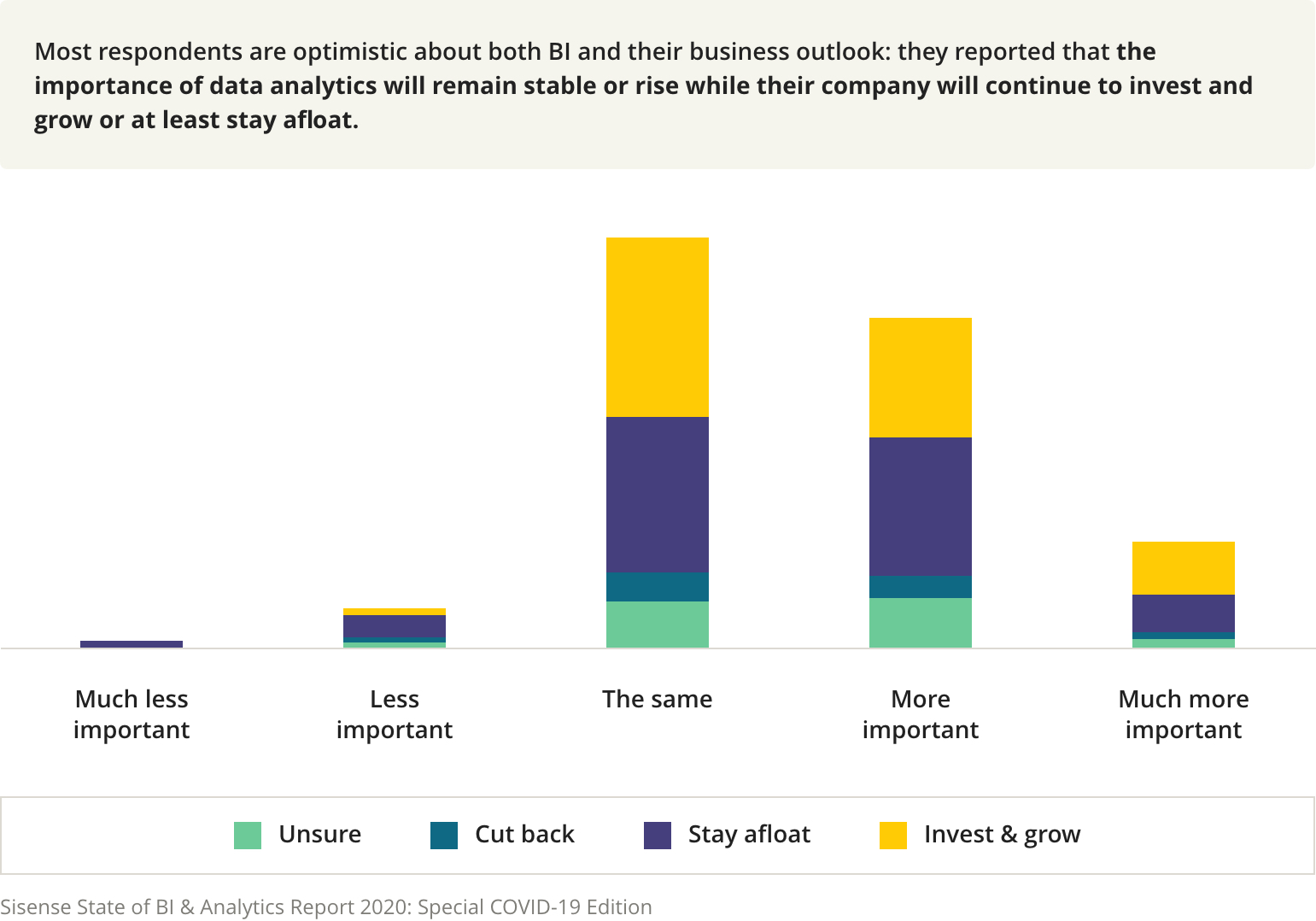 However, even companies that report lacking resources believe that spending on BI and analytics tools will remain the same.
Data professionals see opportunities
Despite the challenges of the current environment — and in some cases because of them — nearly half of respondents are seeing opportunities as a result of COVID-19. Forty six percent of respondents reported new business opportunities as a result.
Increased interest in data: 34% of respondents intend to grow their investment in data resources and data analytics tools. For data teams, this is great news. Increased organizational interest in data indicates that organizations value the work of their data teams, recognize the need for expanded data use cases in the months ahead, and may consider expanding investments in the future. Now, more than ever, it's the data team's time to shine.
New business opportunities: 28% mention that the potential of the post COVID-19 global situation will create new growth opportunities. Their increased interest in data analytic tools remains a way to capture these new opportunities.
Industries refocusing their business: Healthcare, Travel, Government, and Industrial/Manufacturing companies are all using this as an opportunity to refocus their business models or their resource planning.
In addition to these opportunities, survey responses also surfaced common challenges that businesses are facing:
25% of respondents now consider remote work as a central challenge.
17% reported a halt in revenue streams due to customer churn or reduction of revenues from customers, a serious risk for business continuity.
Small businesses lead the data charge
Regardless of industry, analytics usage is increasing across every department in small companies.
While large enterprises struggle to remain agile in the face of multiple, siloed BI and analytics solutions and data sources, many small companies grew with cloud infrastructure in place. Additionally, they are still small enough to use a single, centralized BI solution. Therefore, we see that companies ranging from 10 – 200 employees reported the largest usage of analytics.
Businesses with 51 to 200 employees led larger enterprises in their use of analytics across every department with 68% of small businesses using analytics in Operations, 56% in Finance, 50% in Sales and 45% in Product.
And while data analytics use is increasing across all departments, small businesses are seeing the biggest increase in Marketing, Finance, and Customer Support use cases — the departments most directly impacted by the virus.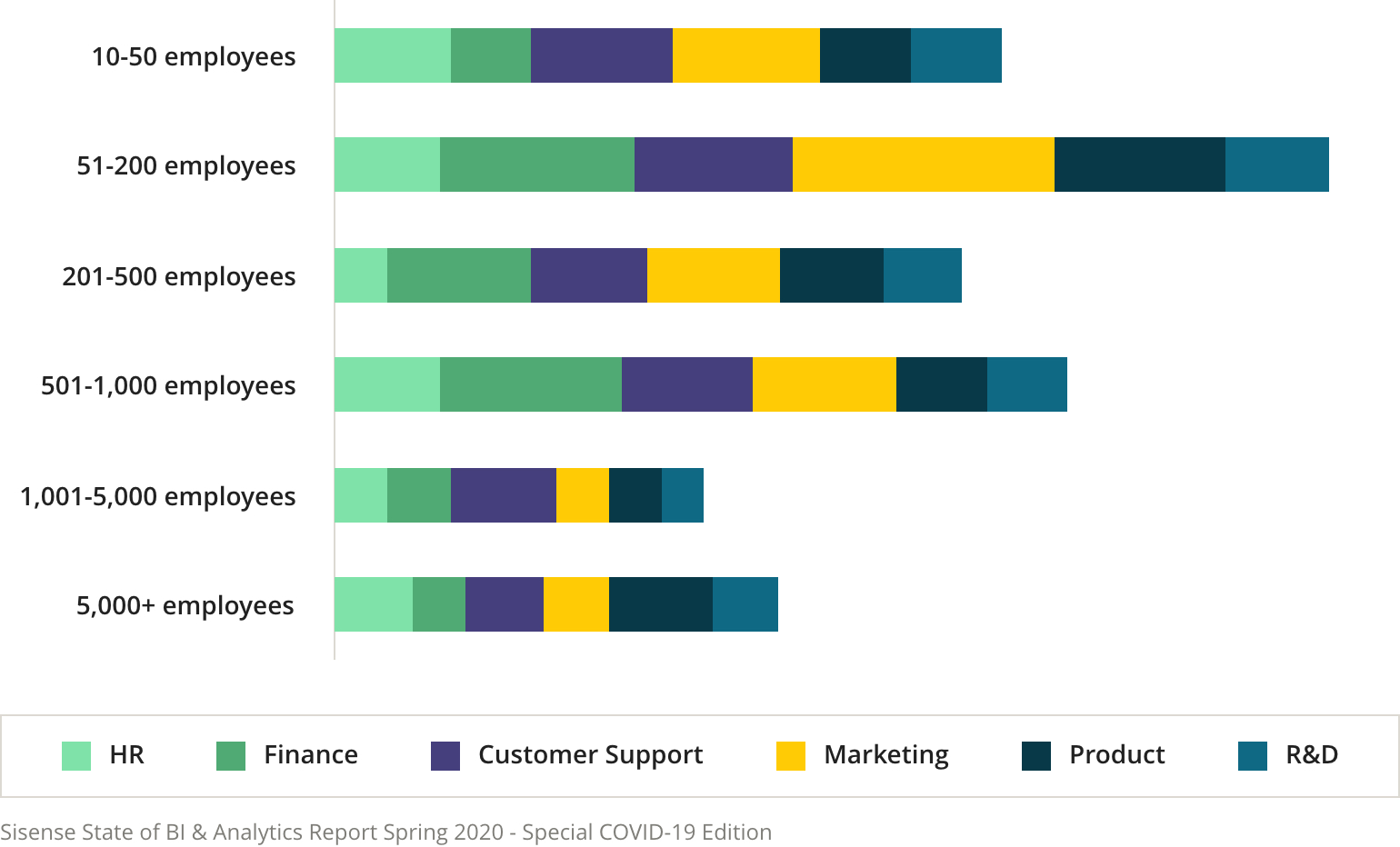 As we explore the new data use cases that companies are turning to in order to manage through the crisis, there remains a strong correlation between the rise in analytics in these departments and the types of problems that companies are solving for in the COVID-19 era.
Companies use data to overcome new challenges
Not only has the pandemic impacted the frequency of use and budgets for data analytics, it's also influenced an expansion of new data use cases. Improving efficiency, supporting customers, and predicting changes and outcomes are the three fastest-growing use cases, and these use cases are expanding regardless of company size.
These use cases aim to solve some of the recent challenges that arose from COVID-19, as decreased revenues require companies to become more efficient, changing customer habits require companies to adjust to their new needs, and companies of all sizes look to the future.
Notably, enterprises are more likely to see expanded data use cases around reducing expenses and cutting costs compared with other new use cases, perhaps indicating more pressure and less short-term flexibility.
Smaller businesses are reporting that they have begun using data to improve efficiency, predict changes and outcomes and support their customers.
New data use cases leading to cloud migration
Respondents across all industries who reported using data for the following new purposes are also the most likely to consider replatforming (moving to the cloud):
Embedding analytics: 35% who started embedding analytics into their products are likely or very likely to move to the cloud.
Cutting costs: 31% who are using analytics to cut costs are likely or very likely to move to the cloud.
Sales funnel optimization: 31% who started tracking their sales funnel with analytics are likely or very likely to move to the cloud.
Differences in data use by industry
While the use of data and analytics has surged across many industries, professional services, healthcare, marketing/advertising, and software/technology reported the largest increase.
Changes in analytics spending by industry
The economic shockwave resulting from COVID-19 has hit technology budgets hard with Gartner predicting a $300B USD decrease in IT spending and IDC predicting a 5.1% decline in technology budgets in 2020.
Nevertheless, some industries are increasing their analytics spending as a result of the crisis. Retail, Government, and Media, industries that may be late adopters of analytics technology are the industries most decisive about plans to increase investment in data analytics solutions.

While Professional services, Healthcare, and Marketing/Advertising have seen expanded use of data analytics, they are also the least likely to increase budget for more robust analytics solutions. This may indicate that these industries currently have data solutions robust enough to support them through a crisis and to support expanded use cases.
Industry deep dive: Healthcare
Most respondents from the Healthcare industry reported growing interest in digital solutions and data, and expect new growth opportunities arising from the pandemic. In addition, several respondents anticipate improved operations of day-to-day activity of their business due to prioritization of projects, expense reduction, better training, and business refocus.
Less than half of respondents believe their companies are properly resourced for the data and analytics use cases ahead, yet the majority don't expect a rise in investment.
Industry deep dive: Software
Just under half of respondents (48%) reported that their company and customers increased their use of data analytics during the crisis, while 43% reported that the use remained stable.
Excluding IT departments, R&D is most rapidly increasing its use of data analytics solutions. Marketing and Finance are also considered departments which now use data analytics solutions more often than before COVID-19.
Software industry respondents are mostly concerned about challenges resulting from market instability and new working environments. Fifty four percent report that the main challenge faced by their company is remote collaboration between employees and with customers.
Most challenges raised by respondents from the Software industry focused on two key areas:
Changing work environment: The need to adapt to remote work and the need to coordinate various activities with employees. In fact, the changing way that most employees work is a short-term challenge for businesses, but a longer-term opportunity as this becomes more commonplace.

Lack of clarity: It's yet unclear what is happening in the market, which led, in part, to changes in work situations and to a halt in customer activity. The relative inertia of the market and larger technology integrations and acquisitions should subside as our future normalizes. Businesses started the pandemic in a holding pattern, but are quickly adapting.
Methodology
The survey responses were divided by industry and company size, as well as by respondent role and seniority.
The detailed segmentation of the responses allows the data to reveal industry-specific conclusions and insights otherwise hidden. Most C-level and VP respondents hold executive-level roles and present more of a business perspective, as opposed to a technological one, while data analysts and developers hold mid-level positions.

These differences influence their views on various topics, from their companies' business outlook to the opportunities, challenges, and needs brought on by COVID-19.
IT departments represent 33% of total survey responses and most of them are individual contributors. Most C-level respondents belong in the IT, Product, and Finance departments.
Sisense partnered with Meidata, a market research firm, to conduct the research associated with the State of BI & Analytics Report.